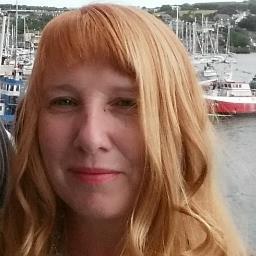 I'm very pleased to welcome Caroline Barry today. Her first novel for adults, The Dolocher, was published by Black and White Publishing last week on 17th March in both paperback and as an e-book. At the time of writing, the Kindle version is on offer for only 98p. If you'd like to grab this bargain, you can order it here: The Dolocher
First of all, would you tell me a little about yourself?
I live in the midlands of Ireland so I'm spoiled for fresh air and gorgeous countryside.  I am fascinated by folklore, by ghost stories of all kinds and any kind of paranormal phenomena.  I am yoga practitioner and as part of my teacher training course I studied in India.  I'm keen on all things philosophical and love to read scientific journals even if most of the concepts are over my head. I have a degree in English Literature and Art History and I believe it is my Art History degree in particular that got me interested in writing.  We had to analyse endless paintings, look at endless portraits and come up with the hidden narrative in each picture and I loved every minute of it.  I am married to a writer.  We have two dogs and four cats, most of the animals are rescued.
What inspired you to start writing?
My art history degree and Raymond Chandler.  I know this is ridiculous, it wasn't his writing per se, although obviously that's wonderful, it was the length of his chapters.  All his chapters amounted to little more than two pages, so I thought if I could write loads of two pages and staple them together, I'd have a book!  Very simplistic, I know, but it was a way of breaking down the 'large concept,' because naturally a book is a huge project, it spans the guts of two years or there abouts, so dividing the effort into bite size chunks seemed a very practical way to begin….ah little did I know….  I also had this theory that I should write young adult first, so that's what I did.  Wrote two young adult novels initially and then The Dolocher, my first adult gothic novel.
Tell me about your journey to publication
It is the usual tale of woe, huge effort and ….well actually….maybe it isn't the usual tale of woe.  I was first published twenty years ago.  At that time everything was done by 'snail mail.'  I sent out my manuscript and a covering letter and got the usual stream of rejections until one day I got a letter that said 'we're interested!'  My first book was called The Rocket Girl (aimed at the 8-12yrs) and was published in 1996 followed in 1999 by Isadora Elzbeth (it's working title was Isadora Elzbeth Goes in Search of Death, but my publishing house thought it was a bit grim…even then I had a tendency towards the gothic).  Then came the long hard slow years of 'almosts' and 'maybes.'  Walker Publishers gave me development money to work on another young adult novel they liked the look of but didn't sign.  Orion publishers were partially interested in another book.  Meanwhile I was designing and delivering creative writing programmes for teenagers in Dublin, Westmeath and Offaly and quite frankly getting despondent.  The years passed, I became interested in scriptwriting and finally my husband suggested I put aside young adult fiction and start writing for adults, it was the most liberating, wonderful experience.  I sat down and wrote The Dolocher and loved every minute of it.  I must have had a publishing angel over my shoulder when I sent my three chapters and covering letter to Black and White Publishers in Scotland.  They have been wonderful.  They signed the book very quickly, paired me with the amazing Karyn Miller, a superb editor, and I have an expert team supporting my work including Laura Nicol and Thomas Ross to mention a few.  They have produced a gorgeous product, given the book a wonderful cover (designed by Henry Steadman) and I could not be happier.  Thank you to everyone at Black and White.
In a nutshell, what is your latest book about?
The Dolocher is inspired by a local Dublin tale of a demon spirit that haunted the streets of Dublin attacking women.  It originated in Georgian Dublin.  Ground zero for the Dolocher was a debtor's prison with the suitably gothic name of The Black Dog.  This prison was demolished in the year 1789.  I happened upon the original ghost story in an old journal called The Dublin Penny Journal and found some early Victorian Guide books that elaborated on the story.  I was particularly inspired by the idea of demonic possession.
How did you come up with the title for your book?
The name was there for the taking.  Not many people in Ireland know of The Dolocher.  The name itself is mysterious.  The prisoner in the Black Dog prison who supposedly came back to terrorise Dublin was called Olocher.  When Dublin people were warning one another not to go out after dark that 'The Olocher' was about, they obviously found it easier to say 'The Dolocher,' and the adjustment to the name stuck.  
How do you plan to celebrate/did you celebrate publication day?
Publication day is St. Patrick's Day!!! Very synchronistic, an Irish ghost tale being released on a globally famous Irish holiday!  I might parade about waving copies of my book and sipping prosecco and behaving with anarchic, reckless delight (lots of skipping and whooping).  I will meet with family and friends and sit smiling as I insist they lavish me with more praise!  Ah no, all joking aside, I will meet with family and friends and make them praise me!
Do you have a work in progress just now?
I do indeed.  My next novel is also a gothic tale set in Georgian Ireland.  It is called 'Chawke and Flin' and this time is focused on the nefarious and libertine group of dilettantes called The Hellfire Club.  It features murders and menageries and of course the devil…..
What's your favourite book you've read in the past few months? Or favourite three if you really can't choose!
My favourite novel has to be The Fish Ladder by Katherine Norbury, exquisite writing.
What are you reading just now?
At the moment (March 2016) I am reading a few books, 'The Ireland of Sir Jonah Barrington, selections of his personal Sketches,' it was first published in 1827 and it is crammed with bizarre anecdotes.  I'm also reading The Georgian Menagerie by Christopher Plumb. I found his PhD on line and then was thrilled to discover it had been published so I bought the book and then lastly I am reading Supernormal – with the sub heading – science, yoga and the evidence for extraordinary psychic abilities by Dean Radin, PhD, quite literally super stuff.  
Tell me about your reading habits:  book or kindle, bed or bath, morning or evening?
Usually evening reading although if I'm very lazy I start off deliciously in bed – but that's rare.  If I'm researching, it will be all day reading and note taking in between the usual tasks of housework, dog walking, class preparation etc.
How can people follow you or connect with you on social media?
I am now on twitter.  It took me years and now I'm an addict so please contact me @GothicGeorgian.
And finally, if you could be a character in any book you have read, who would it be and why?
Any book…..I'd like to be Richard Sharpe, from the Sharpe novels he's ridiculously self-possessed, always gets what he wants or better, is unapologetic, brave, uninhibited….. and but maybe he's too crass, let me think…of course Elizabeth Bennet (I know, who doesn't want to be Elizabeth Bennet?) she's feisty, with a glittering playful intelligence and she gets Darcy and Pemberly…. but mostly she gets Darcy…