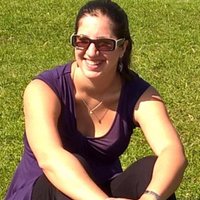 I'm very pleased to welcome Christina Philippou to the blog today. Christina is a writer as well as a blogger, with her debut novel due out in September. She blogs as Writing Around the Block, details below of where to find that.
Thanks for agreeing to be part of my Blogger in the Spotlight feature. First of all, would you tell me a little about yourself?
Thank you for having me! I'm an avid reader and writer, but, when not doing either, I can also be found engaging in sport or undertaking some form of nature appreciation. I have three passports to go with my three children, but am not a spy. When I can't find books I want to read, I write them, and my debut novel, Lost in Static, is due to be published on 15 September 2016.
What books/authors did you enjoy as a child?
I adored The Turbulent Term of Tyke Tiler. And Enid Blyton's mystery series (particularly The Famous Five and the Five Find-Outers). And Agatha Christie. And… I'm going to stop now to save this from being a very, very long paragraph.
What made you want to start blogging?
I started blogging for me – to keep a record of the great books I'd read and my writing journey.
What do you enjoy most about blogging?
I love sharing thoughts on the books I've enjoyed and the ones that I think everyone should read.
Tell me about your blog – sell yourself!
My blog covers my reading recommendations across a wide variety of genres, bookish discussion posts (including my thoughts on genres), and writing hints and tips (always intertwined with reading). It also has words of wisdom from authors in the form of interviews and roundups of live events.
What's your favourite book you've reviewed in the past year? Or favourite three if you really can't choose.
Favourite three is tough enough! 'The Corpse Role' by Keith Nixon, 'The Summer of Secrets' by Sarah Jasmon, and 'Too Charming' by Kathryn Freeman.
What are you reading just now? 
It's currently March 2016 and I'm reading 'The Little French Guesthouse' by Helen Pollard.
Tell me about your reading habits:  book or kindle, bed or bath, morning or evening?
Is it wrong to say all of the above? I'm not the biggest fan of hardbacks, but otherwise I'll read anything (fine, including hardbacks!) at any time, and anywhere. I'm lucky enough to get to read nonfiction for work too, so lots of reading's involved.
Can people follow your blog or connect with you on social media?
Absolutely! You can follow my blog, and I'm also on Facebook and Twitter, as well as on the Britfic website.
And finally, if you could be a character in any book you have read, who would it be and why?
I always wanted to be George from Enid Blyton's Famous Five or Tyke Tiler, but, given I'm now a responsible adult with children of my own, I'm going to have to go with Florence Love from 'The Last Honeytrap' by Louise Lee – I like my lost, flawed yet strong female characters, and I have a feeling there are a lot of adventures still ahead for her…