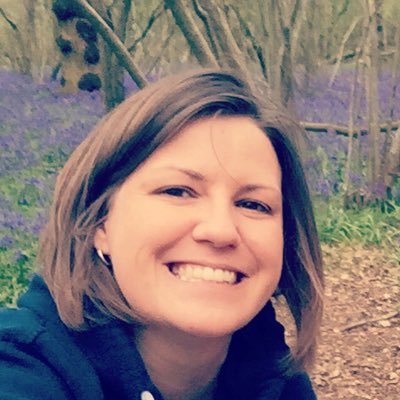 After a little break over summer, Clair is starting off my Blogger in Spotlight feature. You can find Clair blogging at Have Books Will Read.
Thanks for agreeing to be part of my Blogger in the Spotlight feature Clair. First of all, would you tell me a little about yourself?
Hello, thank you for having me! I'm Clair and live in Cambridgeshire. I am married to my childhood sweetheart who is exceptionally patient regarding my bursting-at-the-seams bookcase. I am also a mummy to our 3 year old daughter and 2 cats (who are very spoilt!). I work full-time in the Insurance industry, it's quite a stressful job that I do therefore I love escaping into books.
What books/authors did you enjoy as a child?
I honestly struggle to remember what I read as a child but I was definitely a bookworm! I was a lover of Enid Blyton and in my early teenage years, I loved Point Horror! I remember being the first person at Primary School to read The Hobbit (this was a big deal way back then!) and I loved Thursday as it meant a trip to the mobile library! Even more amazing if they had received a stock of new books!!
What made you want to start blogging?
As a reader, I appreciate the time and effort that authors (and publishers!) put in long before a book is published, I joined Goodreads in 2011 just to track my growing shelves of books and what I have read. It was through Goodreads that I realised how much reviewing books helps authors to be recognised and introduce new readers to their books. This then grew into joining NetGalley in 2015 and then into creating my blog in February of this year, I kind of wanted to give something back from a hobby that I have enjoyed for as long as I can remember.
What do you enjoy most about blogging?
The blogging community, be that other bloggers, authors and publishers. It's such a supportive and welcoming place – everyone is respectful to one another even though book tastes and opinions vary. Also, through blogging and the associated social media, I have found so many new books and authors that I probably wouldn't have discovered before which is fabulous!
Tell me about your blog – sell yourself!
Oh dear, this really isn't my strong point which is probably why it took me so long to get blogging in the first place! Right here goes….I blog at Have Books, Will Read. I read most genres but particularly drawn to Crime/Thrillers – I am supportive of new authors and happy to extend my blog out to guest posts and promos to assist in my own little way. Whilst I am new to the blogging scene, I am supportive of new bloggers and love to discover new blogs. Alongside my blog, I am active on Twitter and Facebook and love engaging with authors and fellow bloggers.
What's your favourite book you've reviewed in the past year? Or favourite three if you really can't choose.
Wow that is a really hard question so I'm opting for 3!
In Her Wake by Amanda Jennings – the stories from each of the characters are wonderfully interwoven into a novel that is frankly fabulous!

The Curious Charms of Arthur Pepper by Phaedra Patrick – a very poignant, amusing and heart-warming story which draws you in right from the start, by Chapter 3 I felt like I was on the journey with Arthur!

The Second Love of my Life by Victoria Walters – had me both laughing and crying, such a beautifully written debut
What are you reading just now? 
Well as of the 12th June, I've just finished The Flower Seller by Ellie Holmes ahead of my stop on the blog tour and starting Mike Gayle's The Hope Family Calendar. I love Gayle's books so I feel extremely honoured to have an ARC of his new one.  
Tell me about your reading habits:  book or kindle, bed or bath, morning or evening?
I do like the convenience of a kindle however I miss holding a book if it's been too long reading ebooks, if I had to choose then it would be physical books! I read whenever I have chance but because of work and home life, most of the time it's at the end of the day in bed.
How can people follow your blog or connect with you on social media?
My blog is here: www.havebookswillread.wordpress.com,
I tweet from https://twitter.com/havebooksblog
My Facebook page is here: https://www.facebook.com/havebooksblog/
Finally, my bookstagram is here: https://www.instagram.com/have_books_blog/
And finally, if you could be a character in any book you have read, who would it be and why?
That's a difficult one; as a child it'd be Scout from To Kill a Mockingbird because Atticus is such a wonderful father and she learnt so much from him about respect, diversity and doing the right thing. TKAM is my all-time favourite book, I was first introduced to it when I was taking my GCSE's and I have read it so many times (which isn't me, not often do I re-read, too many books for that!). As an adult it'd be DI Kim Stone, she is such a strong woman in a male orientated career; she's confident but also sympathises with victims and their families, Stone primarily wants justice for those wronged by crime and often jeopardises her career for that end goal.