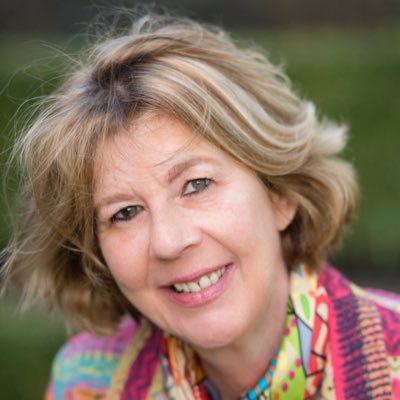 I'm very pleased to welcome Lynda Spiro to my blog today. Lynda's book There Is Always More to Say, was published in April 2016. My fellow blogger Linda Hill gave it a glowing review which you can read here. Sadly a massive to-be-read pile means I don't have time to read it myself. You can order a copy here: There Is Always More to Say
First of all, would you tell me a little about yourself?
I was born in Hampstead, London where I now live with my husband. I have two adult sons, although they will always be my babies! I'm a mixed media artist who mainly works with fabrics, colours and recyclable bits and pieces which are all incorporated into my work. My passion for colour, my fascination with texture and my love of recycling have all found expression in a large body of work that includes textile design, latch-hooked rugs, needlepoint cushions, mosaics, painting and sculpture. My hobbies are belly dancing, tap dancing (which I do with my mother!), and contemporary jazz. I enjoy both going to the theatre and the cinema. I also take the opportunity to visit art galleries and museums. I adore travelling and experiencing different sights, sounds, and smells in new places. I am also a part time examinations invigilator. In fact, it is whilst invigilating that my best ideas come to me!
What inspired you to start writing?
I had a story that I wanted to tell. Based on my past experiences and those of other people. I was encouraged by a really good friend of mine to write these thoughts, feelings and emotions down. I took up the challenge and enjoyed every second of the experience.
Tell me about your journey to publication
I spent eighteen months channelling my creative energies into writing. When I had finished I then contacted New Generation who helped me both with the publishing and marketing process of my first novel 'There Is Always More To Say'. I self-published because I was keen to get the book released.
In a nutshell, what is your latest book about?
Set in Soho, 1984, two people meet and their worlds are changed forever. An unexpected meeting – a look that means their lives will never be the same again. In "There Is Always More To Say", I chronicle the lives of the couple through friendships, marriage, fleeting moments and snatched time. It is a passionate account about a connection between two people that never dies even when tested by distance and when life throws the unexpected at their feet.
How did you come up with the title for your book?
Well there is always more to say! I was down to a shortlist of three different titles of which There Is Always More To Say was not one of them. But one day whilst I was writing, in my head I thought 'there is always more to say'. I can remember smiling to myself and thinking: yes, that's my title.  I still might use one of the other titles from the original shortlist for my next book.
How did you celebrate publication day?
By coincidence the book was published on 18 April 2016 which happened to be my fifty-seventh birthday. I spent the afternoon with my 103-year-old friend Kitty who is dictating her memoir to me. We spend one afternoon a week together. I love my Tuesday afternoons with Kitty.
Do you have a work in progress just now?
I do. I have two! As well as shaping a second novel I have found myself also writing poetry. At the moment I have lots of ideas, notes and scraps of paper!
What's your favourite book you've read in the past few months? Or favourite three if you really can't choose!
My favourite book that I've read in the past few months has to be 'The Time Keeper' by Mitch Albom. This book is a lesson in valuing time. It is a pleasant mix of reality, fantasy, love and heartache. Even the slightest touch of history is thrown in. Anyone who has loved someone, missed someone, regretted a decision they have made, or felt the occasional pangs of loneliness will be able to relate to the characters. Sarah Lemon, a lovelorn teenager, Victor Delamonte, a wealthy and fatally ill man in his eighties, and their instructor Dor (Father Time). Every character has a deep sadness that surrounds their closest relationships. This sadness is what makes the characters rich and relatable. Sarah Lemon wants to stop time; Victor Delamonte wants to extend it, while Dor, who has lived thousands of years (God's punishment for his attempts at being the first to count time), has learned the value of time, which he is obligated to teach to Sarah and Victor. This novel made me truly stop and think about how I spend my time and what I focus on the most.
What are you reading just now? (July 2016)
I'm currently reading 'These Days of Ours' by Juliet Ashton. It's a wonderful multi-layered love story. It isn't just about the love between a man and a woman. It's also about that special kind of love we share with both our friends and family. There have been plenty of surprises hidden within the pages. It tells of love and loss, devotion and betrayal. It's unpredictable, touching, sometimes funny, sometimes sad and I am hoping to finish it this afternoon!
Tell me about your reading habits: book or kindle, bed or bath, morning or evening?
Definitely a book for me. Never a kindle. I don't own one. I spend enough time at a screen when I'm writing. And it has to be a paperback. I like to feel the pages. I never fold the pages back of a book, nor do I ever write in one either. I like reading in the afternoon the best. But when I'm on holiday I love reading before I go to sleep. Because I can read really late into the night without being concerned about having to get up the next day.
How can people follow you or connect with you on social media?
I really enjoy hearing from my readers. I can be contacted at:
My own website (a massive learning curve for me): www.thereisalwaysmoretosay.com
Twitter: @lyndaspiro
Instagram: @lyndaspiro
Email: lyndaspiro@yahoo.co.uk
And finally, if you could be a character in any book you have read, who would it be and why?
My answer would have to be Alice from Alice's Adventures in Wonderland. As a young girl, I could totally relate to Alice's overwhelming curiosity. I would have done anything to have been given the opportunity of visiting Wonderland. Alice's reasonableness, her sense of responsibility, and her other good qualities emerge in her journey through Wonderland. Her list of virtues is long. They include courage, kindness, intelligence, courtesy, humour, dignity, and a sense of justice. Doesn't everyone want to be Alice?