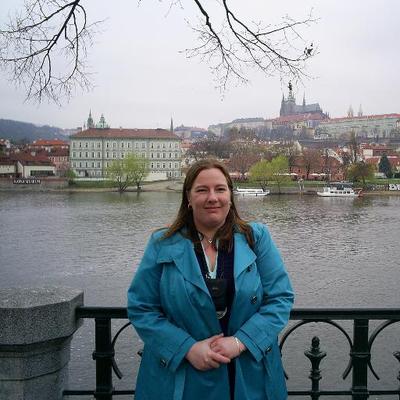 I'm very pleased to welcome Leah today. Leah wins a prize for taking longest to complete her answers as she first got the questions over a year ago! But she also wins a prize for being quickest as, after she asked me to resend them, she replied very promptly. Thanks for agreeing to be part of my Blogger in the Spotlight feature Leah. First of all, would you tell me a little about yourself?
Thanks for letting me take part. My name is Leah. I am 33yrs old and live with my partner Ian in Watford, Hertfordshire. We live in a flat so sadly are unable to keep pets and we don't have any children. I work full time as a Bookkeeper for a local business. Ironically, I spend all day thinking of words and books whilst dealing with numbers. I was born in Germany as my Father was in the Army, so I was used to moving around a bit when I was younger. My second love after books is music.
What books/authors did you enjoy as a child?
I can remember reading right from the beginning of school, with the One Two Three and Away books by Sheila K. McCullagh. I also loved Spot the Dog by Eric Hill and The Very Hungry Caterpillar by Eric Carle. As I got older I loved the Beatrix Potter set I had, and the Mrs Pepperpot books by Alf Proysen. After that I moved on to Nancy Drew and anything by Enid Blyton. I had a particular penchant for The Magic Faraway series and remember loving Moonface. I also remember enjoying Anastasia Krupnik by Lois Lowry.
What made you want to start blogging?
It just seemed like a natural progression for me. I was a member of an online book forum, where I reviewed books that I had read. I just wanted my own space on the worldwide web that I could call my own and recommend books to other people and maybe make contact/friends with like minded people. I am actually quite shy around people I don't know, so this seemed liked the ideal hobby for me.
What do you enjoy most about blogging?
I love the fact that I am the member or a wonderful and supportive community of book lovers, I love the fact that I get to recommend books to other people, often before they have been released for general sale. I love all of the friendships that I have made, that I wouldn't have without the blog. People I haven't even met in real life. I love the escapism that reading and blogging give me after a hard day.
Tell me about your blog – sell yourself!
I have said elsewhere that I am quite shy, so selling myself is something of a difficulty! I like to think that I provide thoughtful and honest reviews of a wide variety of genres. I would love to review as frequently as some of my fellow bloggers but with a demanding job it is tricky to fit it all in.
What's your favourite book you've reviewed in the past year? Or favourite three if you really can't choose.
This is really tricky as I hate favourites, but these three are all amazing.
The Wacky Man by Lyn G. Farrell
In Her Wake by Amanda Jennings
I'm Thinking of Ending Things by Iain Reid
What are you reading just now?
Right now I am reading Lie With Me by Sabine Durrant – August 2016
Tell me about your reading habits: book or kindle, bed or bath, morning or evening?
I don't have a kindle so it is real books for me all the way. I actually prefer paperbacks to hardbacks as I find hardbacks whilst lovely to look at on the shelves, annoying to read. I don't read in bed or the bath. Ever since I dropped a book in the bath anyway and I can't get past a page if I read in bed before falling asleep – not very productive.
I do most of my reading at the weekend and some in the evenings. I love looking forward to the weekend when I know I have large chunks of time to devote to reading. It feels like a treat every single time.
How can people follow your blog or connect with you on social media?
You can find me in various places on social media:
On the blog itself: https://reflectionsofareader.blogspot.co.uk
On facebook: https://www.facebook.com/reflectionsofareader/?fref=ts
On Twitter: @LeahJMoyse
And finally, if you could be a character in any book you have read, who would it be and why?
This is such a difficult question! I could change my mind a million times but at the moment I think I would be DI Rio Wray from the books by Dreda Say Mitchell. I adore her tenacious spirit, her fight to get to the top of her career. I love the fact that she is feisty, fiery and strong and will do what it takes to get what she wants. Although not perfect and she does have her flaws, I admire her.