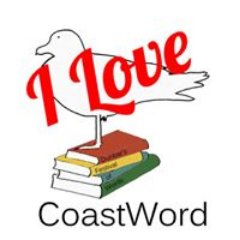 Last night Kelly from LoveBooksGroup and I headed off on the train to Dunbar, about 30 miles outside Edinburgh, for the opening night of the fifth Coastword Festival. Coastword is a community festival featuring words, music and theatre.  Kelly and I were delighted to be asked to be the official bloggers for the festival and will be sharing our experiences of the weekend over the next few days. With a programme of events featuring among others Janice Galloway, Christopher Brookmyre, Shelley Day, Catherine Simpson and Val McDermid, we knew we were in for a busy, exciting and entertaining weekend. You can read Kelly's take on things at LoveBooksGroup.blog
There had been writing workshops on Friday afternoon led by Marjorie Gill and Janice Galloway but our first event of the weekend was the fabulous Coastword Nights featuring award-winning playwright Jenna Watt and singer-songwriter Kirsty Law. Most of the weekend's events were taking place at the Dunmuir Hotel, just a short walk from the train station along a road which runs by the Firth of Forth, making it easy to see Dunbar's strong connection to the sea.
In the first half of the evening, the audience watched Jenna Watt's Faslane, a solo play which presents her personal view of the story and is very topical given the current debate about the Trident nuclear missile programme. Faslane is about 40 miles outside Glasgow and in the play Jenna explores her own relationship with the base. Her family had worked at the base and friends had protested against Trident so Jenna has a foot in both camps as it were. You can find out more about Jenna and her work at her website 
Jenna Watt gave an impassioned performance beginning with a plea for world leaders to explore peaceful solutions to world problems and highlighting just how dangerous nuclear weapons are. It was a surprise when she then explained this was actually from the Russell-Einstein Manifesto from 1955. It is just as relevant today. Jenna then took us through her journey to find out more about Faslane and Trident including a visit to the base where her cousin showed her round and answered her questions. For her family, working with Trident was just a job and one they did to the best of their ability. By way of contrast, she also visited the Peace Camp to speak to those living there.  She felt conflicted after both visits and through her performance, explored how she was feeling and how her understanding of Trident developed. 
Jenna Watt gave an impressive performance as she worked her way through her very personal response to Trident. It was a powerful piece of theatre to watch and very thought-provoking. Despite the subject matter, there were moments of dry humour which had the audience laughing, only to be swiftly followed by much more serious moments. The stark staging and subtle lighting of the performance area was enhanced with music and also audio-clips from tv and radio, both contemporary and from the past. I hadn't really known what to expect from this play but found it fascinating and one which made me reflect on my own opinions.
The second half of the evening featured Kirsty Law, Coastword's first songwriter in residence, who presented her work on the theme of Urban Seascape.  Her songs were inspired by the Firth of Forth and Dunbar's relationship with the sea. I had heard her sing recently at an event at the National Museum of Scotland and was very impressed with her lovely singing voice. She creates her songs within the traditional Scottish music tradition and collaborates with poets and storytellers in her work. You can find out more about Kirsty and her music at her website.
Kirsty Law performed six songs on the evening, three of which had been written as part of her residency.  Before each song, she explained a bit of the background of how she came to write it, whether it was history or landscape or both which inspired her. I love that you can hear her accent come through so strongly as she sings. Listening to her singing reminds me how much I enjoy folk music, which somehow makes me feel connected to the traditions of the past. Along with the keyboard, she also played a shruti box, pictured below. Now if you haven't heard one before, look it up on YouTube. Kirsty explained that it is actually an Indian instrument but as a drone instrument has a similar sound to bagpipes so works well with Scottish songs. I have to agree that it adds a beautiful haunting sound which really complements the words of the songs. I enjoyed Kirsty's performance and think she is a very talented singer and songwriter. Her music is powerfully evocative and draws strongly on the Scottish folk music tradition while at the same time feeling contemporary and fresh.