I'm pleased to be able to share an excerpt from The Chateau of Happily Ever Afters by Jaimie Admans. It was published on 7 June by HQ Digital and at the time of writing is only 99p. You'll find buying links as well as information about the book and the author following the excerpt. There is also a fantastic giveaway right at the very bottom of the post so don't miss out on your chance to enter that.
Excerpt
The room is at the front of the château and gives me a perfect view of the driveway. There are trees on either side of the courtyard and their leaves wave in the breeze, overgrown reeds bending over and dragging their tips through the water of the moat, and somewhere nearby, birds are chirping at each other.
It's so peaceful here.
No sooner than the thought crosses my mind, a noise reaches my ears. A car engine. The booming thump of a radio playing too loudly. Squealing brakes as it takes a corner too fast. And then I see a flash of red between the trees. It's getting closer. This cannot be a good thing.
I watch from the window as the car turns in, speeding down the driveway towards the château. Any semblance of peace is shattered as the music thumps out, loudly enough to shake the entire building. The car is a sleek sports thing with the top down, and I squint to get a look at the driver. Long-ish dark hair tamed with product and a pair of sunglasses far too big for his head. Oh no. I'd know the smirk on his face anywhere. It's the bloody nephew-git.
I should have known. Why didn't I guess he'd come here too? Of course he would. Men like him are all the same. Money, money, money. He's got no interest in Eulalie or the château, other than what it's worth, no doubt. But he's heard the word treasure, hasn't he? I should've known after all that unfair advantage stuff the other day.
The shiny red car squeals to a halt in the courtyard with a spray of gravel, and the noise finally stops.
'Yeah, yeah, you've got a small willy. No need to advertise it any louder,' I mutter.
I watch as he gets out of the car and stretches muscular arms, his shirt riding up at the movement, showing a hint of tight stomach, and I shouldn't feel so disappointed when he pulls it back down again. I can't tear my eyes away from how low down the buttons lie on his chest – not until he pushes his sleeves up, anyway, easily redirecting my attention to his tanned forearms. He slides his sunglasses off and tucks them into his pocket, pointing his keys over his shoulder as he walks away from the car. The beep-beep of his car locking brings me back to my senses. Bloody hell, what is wrong with me? The French sunshine must've gone to my head. Anyone would think I was ogling the enemy. That pretentious knob with his roofless poser car. No way would I ogle him. As if.
He stands in the courtyard and looks up and I jump back from the window. He must've seen me. Bollocks.
What am I going to do? I don't want him here. This doesn't belong to him.
He's going to come in here. I can hear gravel crunching under his feet as he walks towards the house.
And I've left the door open.
I slip across the landing and half-slide down the stairs in my rush to get to the front doors. I nearly fall out of them rather than close them. As I stumble to right myself, I look up and meet his eyes for one split second as he's walking up the steps, then I heave the doors together and slam them shut. I twist the key too fast and it makes such a severe grinding noise that I expect it to come out in two pieces. I lean against the doors with a sigh of relief.
I don't even realise what I'm doing until he bangs on the other side. 'Oi! What are you doing? Let me in!'
I squeeze my eyes shut and shake my head, hoping he'll go away.
Shutting him out was a silly, childish thing to do. I know that. But I also know he doesn't belong here. Eulalie wouldn't want a complete stranger turning her house upside down because of some silly riddle about treasure.
About the author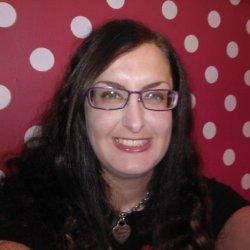 Jaimie is a 32-year-old English-sounding Welsh girl with an awkward-to-spell name. She lives in South Wales and enjoys writing, gardening, watching horror movies, and drinking tea, although she's seriously considering marrying her coffee machine. She loves autumn and winter, and singing songs from musicals despite the fact she's got the voice of a dying hyena. She hates spiders, hot weather, and cheese & onion crisps. She spends far too much time on Twitter and owns too many pairs of boots.
She will never have time to read all the books she wants to read.
She is the author of chick-lit romantic comedies The Chateau of Happily Ever Afters and Kismetology, and she has also written young-adult romantic comedies Afterlife Academy, Not Pretty Enough, and North Pole Reform School.
Author links
http://www.jaimieadmans.com
http://twitter.com/be_the_spark
http://facebook.com/jaimieadmansbooks
The Chateau of Happily Ever Afters – buying links
Amazon UK: http://www.amazon.co.uk/dp/B06Y69QZGP
Amazon US: http://www.amazon.com/dp/B06Y69QZGP
Will also be available from all other ebook retailers.
From the back of the book
Where dreams come true…?
Wendy Clayton stopped believing in fairy tales a long time ago. Instead, she has a 'nice' life. Nice job. Nice flat. Absolutely no men. Until her life is turned upside-down when her elderly neighbour, Eulalie, passes away and leaves her the Château of Happily Ever Afters!
But there's a catch: she must share the sprawling French castle with Eulalie's long-lost nephew, Julian. And no matter how gorgeous he is, or how easily she finds herself falling head over heels, Wendy needs to find a way to get rid of him…
Because surely happily ever afters don't happen in real life?
Escape to beautiful France this summer with this uplifting romantic comedy. Perfect for fans of Kat French, Caroline Roberts, and Holly Martin.
Giveaway

For you chance to win all the goodies in the photo (which are also listed below), click on the Rafflecopter link.
French-themed stationery goodie bag.
1 x Paperchase Paris notebook and pen
1 x The Chateau of Happily Ever Afters notebook
1 x little Eiffel Tower model
1 x Eiffel Tower bookmark
1 x The Chateau of Happily Ever Afters magnet
1 x Signed postcard