After the rain of Wednesday, Thursday was a beautifully sunny day and the gardens were buzzing all day with people enjoying the lovely weather. You will have to excuse the lack of photos from the events. You're not supposed to take photos during an event which is fair enough and it's really too dark anyway.
First event of the day was a recording of BBC Radio 4's Front Row. Presented by Val McDermid it featured Paul Auster, Denise Mina, Andrew Greig, Mike Heron, Sam Lee and Catherine Wilson. Paul Auster was talking about his latest novel 4,3,2,1 which is considerably larger than his previous works and is about four possible lives of his character Archie Ferguson. He said originally it was to be called Ferguson but then the dreadful events at Ferguson, Missouri happened and he felt he couldn't use that title. He spoke of the tremendous divisions in American society today and how shockingly similar events are to those of 50 years ago.
Next poetry slam champion Catherine Wilson entertained us with a poem about Edinburgh specially written for the event. She is currently taking part in a Fringe Show every evening at the Scottish Storytelling Centre.
Denise Mina has moved to looking a true crime in her latest novel The Long Drop. It examines the case of Scottish serial killer Peter Manuel. She said that although the majority of the novel was based on the true events, it was very much her imagining of how things might have been, particularly with regards to the court case. She says it is healthy to question official versions of events and that everyone should read newspapers whose point of view they don't agree with, to develop a wider understanding of truth.
Andrew Greig has teamed up with Mike Heron from 60s folk band The Incredible String Band to write You Know What You Could Be. It is partly a memoir of Mike Heron's time with the band but also Andrew Greig's experiences of being heavily influenced by the band. I particularly liked that he felt it had led him to being a novelist as he realised you could make a living and avoid a proper job!
Folk singer Sam Bell treated us to his interpretation of The Circle is Unbroken by The Incredible String Band. He was taking part in a concert to celebrate the band at the Usher Hall on Thursday night.
You can download a podcast of the show here.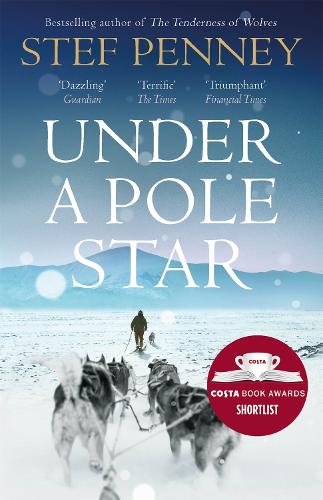 Under a Pole Star, Stef Penney's latest novel, was one of my top reads last year – you can read my review here. It is an epic story about Polar exploration with the main character being Flora Mackie, the daughter of a Dundee whaler. It was fascinating listening to her talking about the detailed research she carried out for many aspects of the book and how much she enjoys her research. She hasn't actually been to the Arctic area of Greenland which is such a feature of her book so it is even more impressive that she created such an amazing sense of place.
There was a collective gasp of horror in the tent when one of the questions revealed a MASSIVE spoiler. Rule number one at a book event – don't assume everyone's read the book already! It was handled very well by the chair Janet Smyth and Stef Penney but it such a shame that anyone who attended the event now begins the book knowing a very key plot point.
After a meeting with authors Stella Hervey Birrell and Natalie Fergie to discuss something very top secret (all will be revealed soon!), my last event of the day was to see the much loved and prolific Alexander McCall Smith. This event was chaired by James Naughtie. The two had a great rapport and it seemed like they knew each other well. This event was full of laughter both from the audience and the two gentlemen on stage. Alexander McCall Smith read from the end of the most recent Scotland Street novel, A Time of Love and Tartan. This featured young Bertie attending a rugby match at Murrayfield with his father and his friend Ranald Braveheart McPherson. Scotland were playing New Zealand and emerged triumphant – this really isn't a spoiler as Scotland Street is an ongoing series. James Naughtie commented that this was the definition of pure fiction! The author could hardly read the book without laughing and the audience couldn't help but join in.
We were also treated to a sneak preview of a forthcoming musical version of The Number One Ladies. The author has collaborated with Graham Weir, who was formerly in the band OMD, to produce a musical featuring one of his creations Mma Ramotswe. We got to hear a few of the songs where the African inspired music gave a good flavour of this feel-good musical. I particularly enjoyed Ladies of Traditional Build, which was a lively song and again had the audience laughing along.
Alexander McCall Smith is appearing at four events during the festival. It is a sign of the high esteem in which he is held that all these events are sold out. I think it's fair to say that he is considered a National Treasure by the people of Edinburgh.
Next week I am looking forward to seeing Maggie O'Farrell, Stephen McGann (Dr Turner in Call The Midwife), having Afternoon Tea with Sara Sheridan and a few others. I'll be sharing my thoughts on those events during the week.