Today I'm pleased to be joining the blogtour for The Kindness of Strangers by Julie Newman and sharing an extract from the beginning of the book. It was published by Urbane Books on 19th April in paperback and ebook formats. You can order a copy online here: The Kindness of Strangers
First of all, what's the book about?
Widow Helen is desperate for a perfect family life, and will do everything she can to get what she wants.
A veteran of the Afghanistan conflict Martin is adrift and seemingly without hope – can he ever win back his estranged family?
Pregnant teenager Charley is striking out on her own to create a new life for her unborn child, but her mother Lizzie has other ideas.
When three seemingly disparate lives connect, the past and the present collide to reveal secrets, lies and how far people are willing to go to hide the truth.
Following the gripping and controversial Beware the Cuckoo, Julie Newman's thrilling new novel lifts the lid on the dark past that haunts a seemingly happy household.
Extract from Chapter One
I DON'T KNOW WHERE TO START. I've never felt so daunted
by a task, ever. Which is quite ridiculous as it is a relatively simple
task, not one that requires any particular skill; and yet it challenges
me. I've brokered million-pound deals, chaired more meetings
than I care to remember and managed teams of people. Yet I can't
seem to do this one simple thing.
As I stand in the doorway of his dressing room I am immobilised;
I feel like I'm standing on the high board at a swimming pool, not
only afraid to jump but unsure if I can swim when I hit the water.
And I feel like a trespasser. This was his space, as my dressing
room was mine; is mine, for I'm still here. Not that we weren't
allowed into one another's rooms, of course we were, but rarely
was there a need. Yes, I know, his and her dressing rooms sounds
rather grand and over-indulgent, but to be honest it suited our
lifestyle. It was a necessary convenience. A convenience that
allowed us to have our own space and time, either to get ready for
whatever the day held or to unwind at the end of the day. There
were many occasions when one of us had a function to attend or
a late night at the office. I recall reading somewhere that it's quite
common for couples to argue before going out as they often get in
each other's way while getting ready – and let's be honest, men can
leave bathrooms in a complete state of disarray. Therefore these
additional rooms probably prevented many cross words or heated
exchanges. Robert's mother couldn't understand why we didn't
just use one of the guest rooms if either of us were late home. She
thought the dressing rooms an unnecessary extravagance; but then
she thought that of most things we had or did, unless it involved
her of course. She was happy enough to accompany us on luxury
holidays, and she didn't refuse when we paid for her new kitchen.
What she didn't understand was that despite having these rooms
we still liked to spend the night together; we rarely spent a night
apart. There was the odd overseas business trip, but whenever
possible we would accompany each other on those trips. In fact, I
can count on one hand the nights we've spent apart. Well I could,
before …
About the author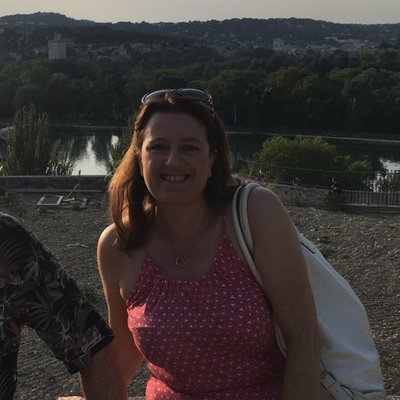 Julie was born in East London but now lives a rural life in North Essex. She is married with two children. Her working life has seen her have a variety of jobs, including running her own publishing company. She is the author of the children's book Poppy and the Garden Monster and the thriller Beware the Cuckoo. Julie writes endlessly and when not writing she is reading. Other interests include theatre, music and running. Besides her family, the only thing she loves more than books is Bruce Springsteen.
Catch up with the rest of the tour at the following blogs