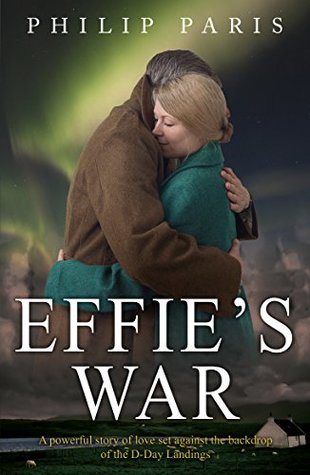 I'm just about to read another of Philip Paris's books, The Italian Chapel, but today I have an extract from his latest novel Effie's War to share with you. Effie's War is inspired by a true event which took place during the Second World War and which I must admit, I had never heard anything about before now.
Thanks to the publishers, Black & White, you also have the chance to win a copy of the book, simply by commenting and telling me what you are reading. I'll use a random name selector to pick a winner. Comment before midnight tomorrow (Wednesday 13th June) and I'll contact the winner within 24 hours. UK entries only please.
If you're not lucky enough to win a copy, you can order one online here: Effie's War
First of all, here's what the book is about:
Effie's father has received notice to quit Kirk Farm, their family home. And every other farm and household in the area has had the same instruction. They all have one month to leave, to sell or move their livestock and harvest what they can. For Effie, the upheaval brings her close to Toni – a handsome Italian POW sent to help out on the farm.
Reverend Walter Smith – the local minister – is excited too, but for very different reasons. Handpicked by Hitler before the war and now integrated into British society, he senses that the secret to make the Führer proud is finally within his grasp. Something momentous is underway in this remote corner of the Highlands and he must find out what.
That secret is held by Captain Armstrong, newly billeted at Kirk Farm. He's there to scope out places to rehearse the D-Day landings. But when Toni inadvertently passes on information about Operation Overlord, the race is on to block it from Reverend Smith – and from Hitler himself …
Philip Paris's powerful new novel is based on events of almost 75 years ago, when an entire region of the Highlands was cleared to allow preparations for one of the greatest secrets of the Second World War. Evocative and deeply memorable, it captures the emotions, dangers and atmosphere of those days when the world faced its darkest hour.
Now read on for the extract
11 November 1943
Edward Ross sat at the large kitchen table and chewed his favourite pipe with such force that it was pure luck that neither the stem nor his dentures broke. He had read the letter once in total confusion, twice with a growing dread and a third time with a smouldering anger that few people would have believed possible of the quietly spoken elder of the kirk. His wife, Martha, was washing the breakfast dishes without any knowledge of the despair growing only a few feet away.
'Damn . . . damn!'
Martha  turned around in  surprise at  hearing such language.
'Edward! Whatever is the matter?'
Ina had just walked through the doorway and stood open-mouthed at her father's utterance. He saw her staring.
'Where's Effie?' he said.
'Upstairs,' replied Ina.
'Fetch her.'
'What's happened?'
'Fetch her! You need to hear this together.'
Ina had never seen her father so distraught and rushed to get her sister, who, at seventeen, was almost three years younger. Mr Ross slid the letter across to Martha. It was only right that she should have the chance to read the contents before they were discussed. She was still trying to understand the implications when their two daughters burst into the kitchen in a way that would normally have resulted in them being chastised sternly. Mr Ross looked at the sisters standing side by side, as exactly alike as an apple and pear can be.
'Father,' said Effie. 'What's wrong?'
'Sit down.'
The girls sat at the table while their mother collapsed into the nearest chair.
'We've received notice from the authorities that we must leave the farm by the twelfth of December.'
'Leave?' said Effie. 'Why? Who's going to look after the livestock?'
'We'll have to get rid of it . . . cattle, sheep, pigs, even the hens.'
Martha put a hand to her mouth and laid down the letter. Effie reached over and snatched it, scanning the text frantically while Ina looked on.
'There must be a mistake,' said Effie. 'They're giving us one month to move or sell everything, in addition to processing the crops. It's not possible in such a short time. We would need a small army of workers.'
'Why do they want our home?' said Ina, close to tears.
'What possible use is it to them?'
'We could move the stock until we return,' Effie cut in.
'This letter seems to imply it's temporary.'
'It's not just our farm, so there'll be a surplus of animals and no one in the area will have the capacity to take on other people's,' said Mr Ross. 'We might find someone to look after the horses, but as for the rest . . . And it'll be a sad day indeed when we lose Alastair and his family.'
'Barbara will be heartbroken,' said Martha. 'Their boys were born on Kirk Farm. Our cottage is all they've ever known as home.'
'Alastair will have to find new employment at the end of the term,' said Mr Ross, shaking his head. 'He won't have any choice.'
They fell silent, reflecting on the enormous changes that were about to be forced upon their lives. Effie eventually broke the stillness by jumping up and pacing around the kitchen in a state of great indignation and irritation that was so . . . Effie.
'This is not right,' she said.
'It's the war,' said Ina.
'I know it's the war!'
'The letter says there's a meeting this afternoon at Inver hall, so perhaps we'll get some answers there,' said Martha.
Effie turned to her mother. Martha was a practical, down-to-earth woman, not given easily to weeping, yet she looked close to tears now. Effie's father, grandfather and great-grandfather had meticulously bred the best livestock possible. The careful records they had kept meant they could trace the lineage of some of the cattle and pigs for more than eighty years. They were a part of the land as much as the ancient horse chestnut tree that overshadowed the drive.
'If we sell the stock then so much will be lost,' said Ina.
'People are losing sons, brothers and husbands,' replied her father, sitting up straight in his chair as he began to pull himself together. 'If we survive this war and only lose our animals, then we should thank the good Lord.'
'Can't Christopher do something?' said Effie, never one to back down without a fight. 'Surely it must be some use having an officer living here.'
Captain Christopher Armstrong had been billeted with the family for three months. Mr Ross had been horrified when he had been informed that they would have to provide accommodation for a young British officer. He readily acknowledged that plenty of other families in the area had been ordered to give room and board to military personnel, but with two beautiful, trusting daughters in the house the idea of a stranger living in such close proximity made him very uncomfortable.
The move had been a double-edged sword. Christopher had been polite and respectful,  behaving like a caring older brother to seven-year-old Hugh, who had taken to him immediately. In fact, everyone liked him; Ina a little too much. She had fallen hopelessly in love, ignoring the advice given during their father's frequent lectures on the subject of 'hasty wartime romances', and how uncertainty about the future was putting too much pressure on couples to commit.
He liked to remind them that there was a lot of wisdom in the saying 'Marry in haste, repent at leisure' and how, when he  was young you courted for months before you even held hands with a girl – and as for kissing! His daughters always listened politely without comment, and the advice had been easy to follow while there was no one to fall in love with.
'I don't see how Christopher can help, it's nothing to do with him,' said Ina bristling, yet there was a hesitance in  her  words.  Effie guessed she was thinking the same thought – that surveying the surrounding land for this evacuation was precisely what Christopher had been sent to the Tarbat peninsula to do.
Author, playwright and journalist P.I. Paris lives in the Highlands of Scotland and is best known for the historical fiction and non-fiction books he wrote about the Italian chapel, built during WW2 by Italian POWs in Orkney. His contemporary novel, Men Cry Alone, broke new ground in raising the profile of domestic abuse against men. His stage play, Casting Off, played to sell-out audiences in the autumn of 2015. The hilarious storyline is taken to new heights in the novel of the same name. Effie's War sees him return to WW2, again with a story which has a backdrop of real events.