Today Myra Duffy is joining me to share #TenThings she'd like her readers to know about her including why Bute is a very special place. I have to say, I am immediately intrigued by the first thing and want to know more!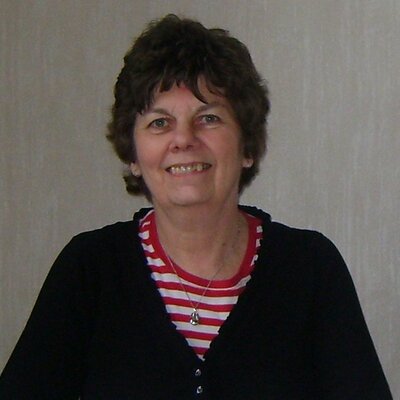 I was born in a castle, though sadly I'm not of royal blood.

I still have the first novel I wrote at the age of nine -a mystery story entitled The Mystery of the Silver Heather – all 796 words of it.

I won a national writing competition when I was thirteen – and the prize was a black poodle – something that would never be allowed these days.

Non-fiction, including fourteen books on management, was my genre for many years and fiction had to take a back seat.

My cosy crime series set on the Isle of Bute came about by chance. My husband and I have family associations with the island going back many years and one day, as we were walking along the sands at Ettrick Bay, I wondered what it would be like if there was a large, dilapidated Victorian house in the hills above the bay. What would it be like? What secrets would it hide? And The House at Ettrick Bay was the result.

I didn't choose the name of my heroine – she chose it. Alison Cameron appeared in my first published novel When Old Ghosts Meet and she moved over seamlessly to the Bute mystery series.

Alison Cameron is an amateur sleuth – it's her curiosity that gets her involved in solving mysteries. In a review of Last Dance at the Rothesay Pavilion, The Buteman newspaper described her as 'An ordinary woman in extraordinary circumstances' and 'Someone you could have a cup of tea with'.

Local people on Bute have been very supportive, something which is important as I use many real locations in the novels. In Dark Deeds at Bute Noir (written specially for the Bute Noir crime festival which is held in August) I've included a number of real islanders – with their permission, of course! And I've been lucky to have the support of a wonderful local bookshop – the Print Point.

My intention was to finish with number six in the Isle of Bute mystery series -at the end of Death at the Kyles of Bute, Alison moves to London. However, that didn't quite work – Alison had other ideas, as did readers. I've now written seven novels in the series, plus three novellas and a prequel. The next one will be out at Christmas.

Part of the fun of being a writer is challenging yourself by writing in different genres. I've recently adapted The House at Ettrick Bay as a six-part radio play for the Bute Theatre Company. Love is Another Country (a Romantic suspense) came out last year and I've several others in various stages of completion, including a science fiction novel, a contemporary woman's novel, a thriller set in Spain and even a cowboy novel. What better job is there than being a writer?
Thanks Myra for a really interesting #TenThings. You can find out more about Myra from her website www.myraduffywriter.com and her books are available to order online. You can find all of her books listed online here.