I have a great guest post for you today as well as my review of The Forgotten Guide To Happiness. In the guest post, the author Sophie Jenkins tells about the agent who inspired the character of Kitty Golding in her novel.
First of all my thoughts. Lana Green is a novelist whose first book was a huge bestseller. It was not-so-loosely based on her own relationship with Mark but he left her for someone else. Her second novel focusing on her heartbreak has been rejected by agent Kitty Golding and she is now totally broke. Through a chance meeting with Jack, she moves in with his step mother Nancy, who has the early stages of dementia, as a live-in carer. Nancy was also a best-selling and much respected writer in her time.
First of all, let me get a couple of niggles out the way. I found it difficult to understand some of Lana's choices especially in the second half of the book. To me they didn't ring true to the kind of woman she was becoming. I also found it a bit confusing nearer the end when I wasn't clear whether something was actually meant to have happened or whether it was something that Lana was imagining in the way of her novels.
However, there was a lot I did like about the novel. I loved all the references to contemporary writers and novels and also to older novelists when referring to Nancy's past career. I also liked the various members of the writing group Lana tutored and the glimpses we got into their lives through what they were writing and discussing. I loved the part of one of their classes where Lana told her students: "Our characters are searching for the all-important missing part. The missing part is different for each of us." This was equally true of many of the characters in the book as well as the characters in the students' own writing.
But the standout character was Nancy. Despite her illness, she was still an outgoing and convivial woman. She was still sharp enough on occasion to weigh up another character accurately. Her dementia was portrayed sensitively and movingly. It was clear she was still a person with feelings but who just needed a little more understanding than other people. Jack and Lana certainly had a wonderful way of coping with her and had a touching relationship with her.
The Forgotten Guide to Happiness is a lovely read about the importance of friendship, love and understanding, with lots of uplifting moments and many memorable characters.
Now read on to find out more about the inspiration for Lana's agent Kitty Golding who makes brief, but significant, appearances in the book.
The real Kitty Golding… by Sophie Jenkins
In The Forgotten Guide to Happiness, the heroine, Lana Green keeps an appointment with her agent Kitty Golding to discuss her new manuscript. Kitty is my idea of the ideal agent; constructive, straight talking and realistic as well. Being realistic is important, because no-one can guarantee success. When Kitty tells Lana that her book about being dumped by the love of her life is too bitter to be published, that's basically the bottom line for her. Lana is forced to put that novel aside and come up with a new story.
Getting published is like mud running for writers; you spend a long and uncomfortable amount of time overcoming a series of obstacles, and the first obstacle is getting a book written. To write a book in the first place takes a fair amount of optimism. Writing is time consuming for a start. You have to come up with a story that you really want to tell, and then tell it – and it never looks half as good on the screen as it does in the imagination. But eventually, after some time and a few false starts and dead ends, you come up with a story with a beginning, middle and end. Result!
How long does that take? It takes as long as it takes, before the motivation runs out and the determination to keep going takes over but finally, hopefully, eventually, the writer comes up with a readable story and by the time she's done this and catches her breath, the next obstacle is looming; it's the search for a literary agent.
What writers think that they want from a good agent is nurture, admiration and a publication deal – someone who is going to gasp at the genius of the writing and promise the world. But it's never a good thing to have an agent who is gushing about the writing – it's too easy to believe them. What a good agent offers is her editorial advice, faith, and tenacity.
At writing conferences and festivals, agents are always in demand and a face to face meeting is more proactive than sending a book in the hope it will be picked up from the slush pile. When I first met my agent, we found out we had interests in common, so we started off with a rapport, and she asked to see my writing. An author only has one agent, but an agent has a whole stable of people to represent so waiting for a meeting, an email or even a phone call is often a nerve wracking process. Finally we signed a contract and one amazing day last summer she said we had a meeting at Avon, our favourite publishers.
After that meeting, even though the offer came later, she opened a bottle of fizz and we sat in the sunshine to drink it. That moment was unforgettable. It wasn't the finish line, but from starting the race alone I was now part of a team.
Thanks to Sabah Khan at Avon Books for inviting me to take part in the blog tour and for my copy of this book. It is available now in ebook format with the paperback to follow in September. You can order a copy online here: The Forgotten Guide to Happiness
From the back of the book
Sometimes, happiness can be found where you least expect it…
Twenty-eight-year-old Lana Green has never been good at making friends. She's perfectly happy to be left alone with her books. Or at least, that's what she tells herself.
Nancy Ellis Hall was once a celebrated writer. Now eighty, she lives alone in her North London house, and thinks she's doing just fine. But dementia is loosening Nancy's grip on the world.
When Lana and Nancy become unconventional house mates, their lives will change in ways they never expected. But can an unusual friendship rescue two women who don't realise they need to be saved?
An irresistible story of love, memory and the power of friendship that readers of The Keeper of Lost Things and The Lido will adore.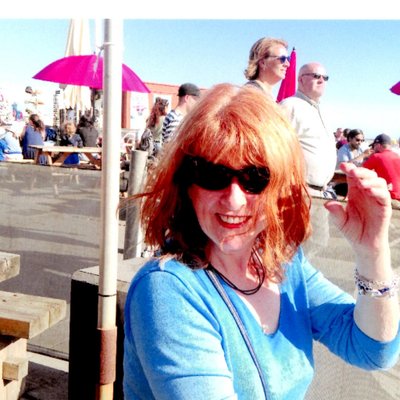 Sophie Jenkins is a serial joiner of writing groups and workshops and a prolific short story writer. To encourage her creativity she regularly enters half-marathons and trains by running from her home in North London to breakfast in the centre of town with a notepad.
The character of Nancy in The Forgotten Guide to Happiness is based on her experiences with her own mother, who was diagnosed with dementia fifteen years ago.
Don't miss the rest of the blogtour