New Beginnings for Bryony Bennett is the debut novel from Katy Lilley. I say debut but actually, Katy Lilley is already an established writer albeit under a different name. It is her first foray into the rom-com genre though. You can read a guest post about this from her here: New Hat, New Genre?
Bryony unexpectedly inherits a fortune from her vivacious and much loved godmother and buys an old house in Devon, leaving the London rat-race behind. This is a light and entertaining account of her settling into village life, which isn't the idyllic peaceful paradise she had envisaged.
I love the setting of a village in a book as it seems to focus all the different kinds of people you come across and all the different issues of everyday life in one small place. As in any small town or village, there are plenty of nosy residents, including those who don't welcome incomers and aren't afraid to make their opinions known. Luckily there is also lively and friendly Maddie who takes Bryony under her wing and is determined to get her involved in village life whether she intended to or not. There is also the smoulderingly gorgeous, but rather grumpy, Dario. He and Bryony get off to a bad start and are at loggerheads over many issues. He seems to delight in being awkward! They keep crossing paths as you do in a small community and their encounters were always fun to read about. He is certainly full of surprises!
Oh and I must mention Bryony's dog Mop. He's an Old English Sheepdog so that's a fabulous name for him. He was full of character and I couldn't help but like him – and I'm not even a dog person!
Bryony is a great character, the kind of person you feel you'd like to have as a friend the more you read about her. New Beginnings for Bryony Bennett is a warm and charming read, full of gentle humour and definitely what you'd call a feel-good read. It may be a new beginning for Bryony but I do hope we get to follow her to see what happens next.
My thanks to the author for my copy of the book. New Beginnings for Bryony Bennett is available now as an ebook or paperback. You can order a copy online here: Bryony Bennett
From the back of the book
When Bryony Bennett's godmother dies and leaves her a huge inheritance, Bryony jumps at the chance to get away from it all and start again.
She packs up her life and moves into the (almost) idyllic Cliff Cottage…only to find that starting over is never quite as simple as you imagine. Faced with grumpy neighbours, hostile locals and more than her fair share of disasters, Bryony embarks on a mission to make sure her new life is everything she wants it to be…but will she ever win over the locals and truly be happy in her new life?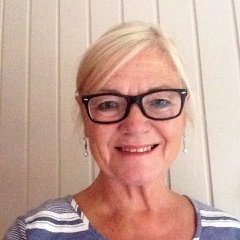 Katy Lilley