"Honestly, you'd think there was nothing more harmless than a book club."
So says Marion Bolton, hostess of a book club meeting which goes disastrously wrong. Rather than a pleasant chat over a glass of wine or a cup of tea and some cake, many of the members end up arguing with each other and it all ends acrimoniously. Worse is to follow when the day after the meeting, a body is found on the local common and it is revealed to be the body of one of the group members. As the police begin their investigation, they discover there may be many potential reasons why the book club members may have wanted this woman dead… I did think the police came over as quite inept and I'm not sure they were following correct police procedures. However, this all added to mystery of whodunnit.
Murder at The Book Club is a quick and entertaining read very much in the cosy crime style of writing. I really enjoyed getting to know the ladies of the book club and discovering what little secrets they all had. I kept changing my mind about who I liked and who I didn't as we learned more about them. I certainly didn't know who to trust. I did have a theory about who the culprit might be but as usual I was wrong! Betsy Reavley definitely kept me guessing with this book. With all the potential motives for murder and so many red herrings along the way, this had the feel of a classic murder mystery and I feel it would lend itself well to a tv adaptation.
This book may have you taking another look at the members of your own book club, though I'm sure nobody is murderous in mine! You never know who might be hiding dark secrets…
Murder at the Book Club was published by Bloodhound Books in paperback and as an ebook. My copy was purchased from Amazon where at the time of writing a Kindle copy costs only £1.99 (but please check before ordering). You can order your copy here: Murder at the Book Club
From the back of the book
Imagine nine women meeting. Tea and cake are on the coffee table. They've come together to share their love of books. They are friends. They trust each other. It's a happy gathering. What could be more harmless?
Then scratch the surface and look closer.
One is lonely. One is desperate and one of them is a killer.
When the body of a woman is discovered on a Cambridge common, DCI Barrett and DI Palmer are called in to investigate. But the motive behind the crime isn't clear… And it all leads back to a book club.
As the lies, volatile friendships and tension among the group rise to the surface, DCI Barrett and DI Palmer must work out the motive and track down a cold-blooded killer. But just when they think they are on the right track, a twist in the case throws them off course…
About the author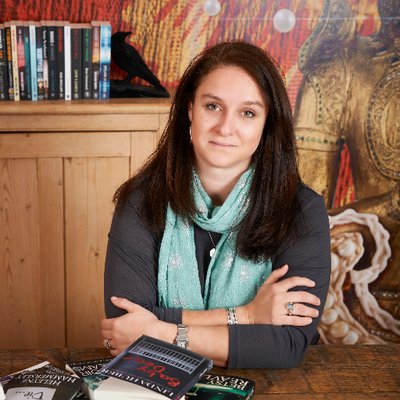 Betsy Freeman Reavley is the author of the novels Beneath the Watery Moon, Carrion, The Quiet Ones, The Optician's Wife, Frailty, Pressure, Murder at the Book Club and the poetry collections The Worm in the Bottle and Shadows in the light.  She was born in Hammersmith, London. As a child she moved around frequently with her family, spending time in London, Provence, Tuscany, Gloucestershire and Cambridgeshire.  
Reavley says "I think people are at their most fascinating when they are faced with life's real horrors. This is what I love to write about." 
Betsy Reavley currently lives in Cambridge, with her husband, 2 children, dog and quail. 
You can follow her on Twitter @BetsyReavley