I have a very special guest on Author in the Spotlight today. Claire Askew is the author of All The Hidden Truths which was published last year and come out last week in paperback. She has another book coming out later this year, What You Pay For. If you are in or near Edinburgh, there is a launch for the paperback of All The Hidden Truths at Golden Hare Books this evening. All The Hidden Truths was one of my top reads last year and one thing I particularly liked about it was that Portobello was quite a significant location since one of the main characters, DI Helen Birch, lives here. So in this special Author in the Spotlight, I have a few questions asking Claire about using Portobello in her books.
Welcome to the blog Claire. First of all, would you tell my blog readers a little about yourself?
Okay!  Well, I started out my writing life as a poet, and wrote poetry for ten years before ever writing a word of fiction.  (My debut poetry collection, This changes things, came out in 2016 with Bloodaxe Books.)  I've done all sorts of weird and wonderful writery jobs in my time: I spent a year at Craigmillar Library, working with 10-18 year olds to build a story-based, co-operative table top game.  I helped pupils at Craigroyston High School to make Craigiezine, a DIY magazine mostly filled with concrete poetry.  I've done all sorts of cool and bizarre residencies, including a month at the Curfew Tower in Northern Ireland, where I had no central heating but I did have my own dungeon and a hatch in the floor out of which I could have, had I wanted to, poured boiling oil onto my enemies.  Right now I'm just finishing up a two-year post as Writer in Residence at the University of Edinburgh (oldest English Literature department in the world, dontcha know!), and my next thing will be going to work at the University of Stirling as a Royal Literary Fund Fellow.  Outside of writing, I run a little etsy vintage shop called EdinburghVintage; I live with a collection of manual typewriters; I knit, and I eat a lot of cake.
What inspired you to start writing?
In a way, I think I wrote All The Hidden Truths (which is both my debut novel and the first novel I've ever written – this is not always the case!) by accident.  For years, I walked around with the idea for this book in my head, but I kept telling myself I was a poet, not a fiction writer, and I didn't have the attention span to write a novel.  What I really wanted was for someone else to write this book – the fallout from a mass shooting from a Scottish, post-Dunblane perspective – so I could read it.  When it seemed like no one was going to, I decided to have a go.  I assumed I'd get to about 5,000 words before giving up… but then it just kept growing and growing.
Tell me about your journey to publication
Mine is quite an unusual one.  I'd been writing All The Hidden Truths largely in secret, and then I came across a call-out for the 2016 Lucy Cavendish Fiction Prize.  It said they accepted works in progress, and that it was free to enter.  I had everything they asked for from a submission, so I thought, what have I got to lose?  I was shortlisted (fantastic in itself!) the same year as Kelleigh Greenberg-Jephcott's Swansong, and I'd have bet all the money in my bank account on her to win, so I was gobsmacked when they read out my name.  As a result of winning the Lucy Cavendish, my book was signed to a brilliant agent who worked with me on the book for about nine months.
Unfortunately, she and I just couldn't agree on the ending.  It was important for me that the reader not be given too neat a sense of 'closure': in real life, when these horrendous events happen, the question that haunts us is what would make someone do that?, and we never really get to find out.  But my then-agent really wanted there to be a clear answer, and we just couldn't reach a compromise.  In the end, we went our separate ways, and although it was a very amicable break-up, I cried on my kitchen floor for hours.  I thought that was my one chance, and I'd blown it.
However, I'm very lucky to know Helen Sedgwick: fellow novelist and guardian angel.  She picked me up off the floor and insisted that I send the book out to other agents.  I'm so grateful to her, because by getting back on the horse, I found my current agent, the amazing Cath Summerhayes.  She put the book on submission almost exactly as it was, and it ended up in a four-way auction. 
In a nutshell, what are your books about?
All The Hidden Truths begins with a freak, tragic event: one May morning a young man walks into his college canteen and opens fire on his classmates, killing thirteen young women and then himself.  The book follows the aftermath, and three women whose lives are turned upside down by his actions.  Ishbel Hodgekiss is the mother of the first girl to die, and as she navigates her grief, she realises the extent to which she and her daughter had become strangers.  Moira Summers is the mother of the gunman, and finds herself besieged by the media and wracked with guilt, wondering how she could possibly have missed the signs that her son was about to do such a terrible thing.  And Helen Birch is the newly-promoted DI who is given the impossible task of "solving" this unsolvable case.  Her job is made more difficult by the fact that the gunman's profile reminds her so much of her little brother Charlie, who was 21 when he went missing thirteen years ago, and who is now presumed dead.  The book asks readers to question the easy, knee-jerk reactions we all have in the wake of events like these… and it shines a light on the lives of those left behind to cope.
In the follow-up, What You Pay For (which is coming out in hardback in August 2019), Birch's prayers are finally answered: Charlie reappears, after fourteen years of being missing without trace.  However, when she finds out where he's been and what he's been up to, she realises that they're both in serious trouble…
How did you come up with the title for your books?
All The Hidden Truths was originally called Three Rivers, which is the name of the fictional college in the book.  That was always a working title, and we very quickly ruled it out as it was too vague and didn't really tell the reader what sort of story they could expect.  My team drew up a big list of possible titles: I contributed some, my agent contributed some, and the editorial team at Hodder contributed some.  We then just whittled them down until All The Hidden Truths won the day!
What You Pay For was originally called Operation Citrine: that's the name of the police operation in the book.  I was really keen on that title, but a couple of people pointed out to me that it sounded too much like sci fi.  We also needed a title to fit with All The Hidden Truths – this time, I went away and had a think, and suggested What You Pay For… so I did get my second choice!
Portobello is one of the locations in your book – why that part of Edinburgh?
I've always loved Portobello, and for me, it feels like a place I can go to escape from the city centre when I need to.  I wanted to give Birch that same feeling, so at the beginning of All The Hidden Truths, we find her newly moved in to a wee house on the prom.  No matter how tricky things get with the huge case she's dealing with, she's able to find comfort in the drive home along the coast, and the sound of the waves outside her door.  Portobello is her sanctuary.
In What You Pay For, though, I've subverted that: Birch begins to receive suspicious phonecalls, and feels like she's being watched.  Her little house has always been a safe haven… until now.
What's your favourite thing about Portobello?
It's hard to choose just one thing!  I think Porty has such a relaxed atmosphere, and everyone is so friendly.  I love to go nosing around for bargains in the charity shops, and I always get to have a nice chat with the volunteers when I do!  I'll usually nip into Nobles arcade and win myself some parma violets on the 2p machines.  Then I'll take a stroll along the prom, and I always, always stop for cake at The Beach House: possibly the best cakes in Edinburgh?  I also love dog-spotting on Porty beach.  There are always so many happy dogs!  And of course, Portobello boasts an excellent book blog 😉
[Why thank you, that's very kind. I'm going to assume you mean this one!]
Do the owners of China Express takeaway know they have a starring role? Or at least, their food does! 😊
I don't know if they know, but I hope they find out that Birch visits pretty regularly to get her tofu in black bean sauce and a side of spring rolls!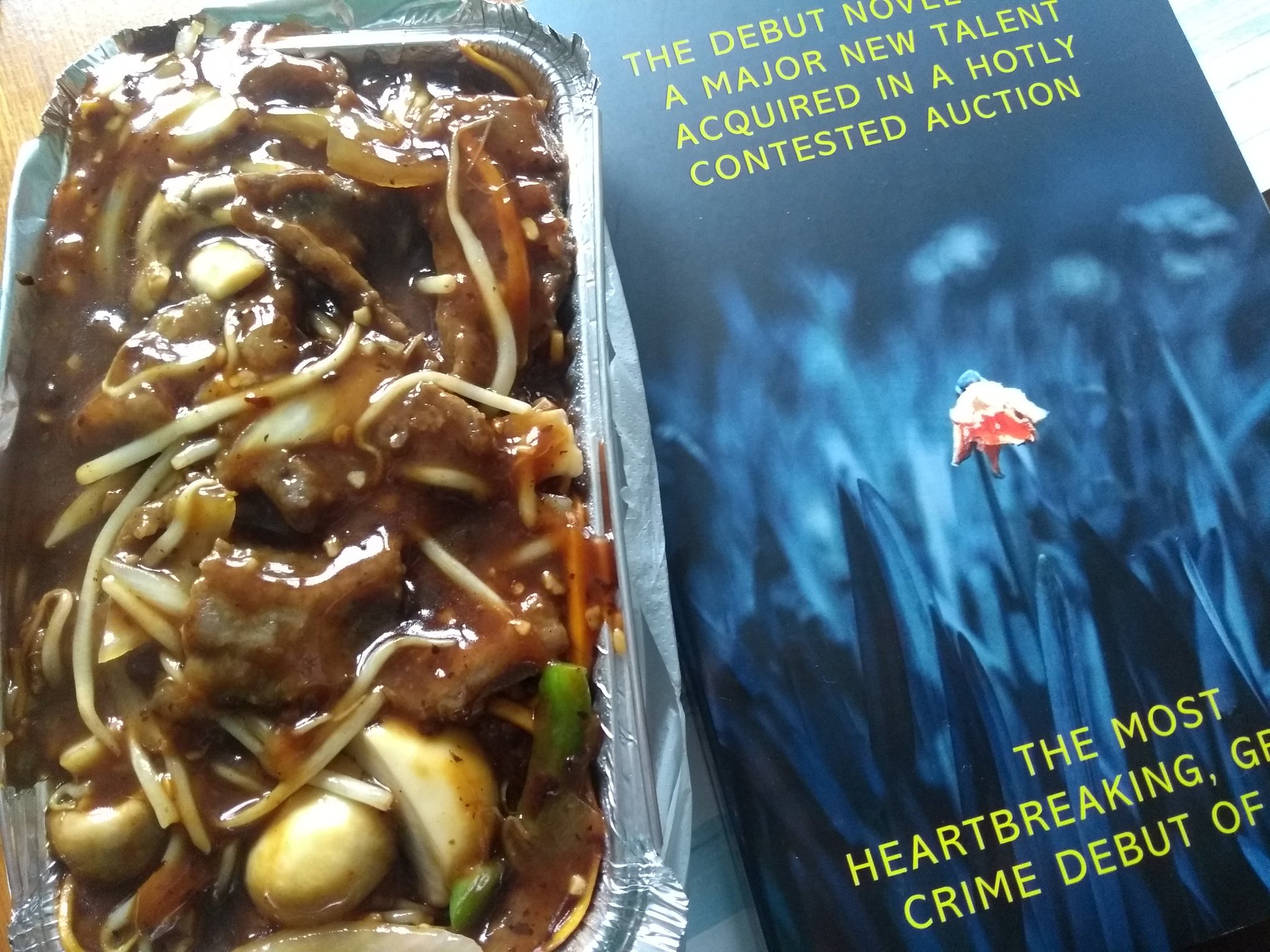 How do you plan to celebrate publication day?
What I've learned is that you have a publication week rather than a specific day – usually, the book appears in bookshops a couple of days before the official date, and everyone starts telling you where they've spotted it!  For the publication week of All The Hidden Truths, I met the Waterstones Edinburgh Book Club for tea, biscuits and book chat; I signed a lot of copies; I travelled to London for an evening event and ate some celebratory cake on the train!  But there'll be a proper shindig for the book on 9th May at Golden Hare Books, where we'll launch the paperback with a reading, some wine and yet more cake.  6.30pm, if anyone wants to come along!
Do you have a work in progress just now?
I'm very lucky to have recently signed another two-book deal with Hodder, so I'm currently working on the third book in the DI Birch series.  The working title is Cover Your Tracks, and the book is about the mysterious case of a very elderly couple who've gone missing… or have they gone on the run?  Birch has a very, very bad feeling about it all, and she finds herself stepping outside of official police protocol in order to follow her hunch…
What are you reading just now?
I'm on a real non fiction kick at the moment, and lately I've read some brilliant examples.  Stacy Schiff's The Witches, Salem 1692: A History was absolutely incredible, a history book written like a thriller!  Now I'm on Lauren Elkin's Flâneuse: Women walk the city in Paris, New York, Tokyo, Venice and London.  I've heard so many good things about the book and it's really living up to the hype thus far!
If you were on Desert Island Discs, what one book would you take with you?
Jennifer Egan's A Visit from the Goon Squad.  It is literally the perfect novel.  I've read it countless times, and every time I come back to it I notice something I hadn't seen before.
How can people follow you or connect with you on social media?
You can find me on Twitter as @onenightstanzas, or on Instagram as one.night.stanzas!
And finally, if you could be a character in any book you have read, who would it be and why?
Iris Chase-Griffen in Margaret Atwood's The Blind Assassin, so I could murder Richard.
You can listen to and watch Claire Askew reading a part of All The Hidden Truths live from Portobello Prom on this short YouTube clip.