As you can see from the picture above, i got into the mood for reading This Lovely City with a gin and tonic. As parts of the book took place in the jazz scene of 1940s London, and there was mention of the ladies drinking gin gimlets, it seemed rude not to join in. I honestly didn't know much about the book before I started it and must admit I was drawn in by that gorgeous evocative cover and the mention of jazz. I love jazz and play in a small band (just for fun). The jazz tunes we play are always my favourite.
Along with many other Carribbean residents, Lawrie arrived in London on the Empire Windrush, answering the call for overseas British citizens to help rebuild war-torn Britain. He has found accommodation, has fallen in love with Evie, plays clarinet in a jazz band in Soho bars at night and is a postman by day. Everything seems to be going well until he makes a dreadful discovery in a park one day. From then on, his new life seems to unravel and fingers of suspicion point at him and others from the Carribbean community.
Louise Hare draws you in with Lawrie and Evie both coming across as really likeable characters. Then all of a sudden, she grabs your attention with this sentence: "Towards the end of the day, as he sat in the police station, he would wonder if in that moment he'd jinxed himself – walking around with that stupid grin on his face as if he were the luckiest man alive."
I really was enraged on behalf of Lawrie and Evie and the injustice they faced just because they weren't white. In fact Lawrie feels at one point that no matter what his passport says "A man with black skin could never be considered British." It was distressing to read about the mistrust and suspicion of the Carribbean community. I did wonder if much in our society has changed? As the back of the book says, it is always newcomers who are treated with suspicion, or those who are just that bit 'different'. In this book, it is the Carribbean immigrants, but over the years this could equally apply to Pakistani or Indian immigrants, Polish immigrants, and probably nowadays the Muslim community. It made me despair at the inhumanity of people. And yet, the book is also full of hope, and about the power of love.
I really enjoyed the way the story unfolded through chapters in the past and the present from different characters' points of view, letters and newspaper articles. It kept the story fresh and moving along. The story gathers pace as the book progresses ending with some final dramatic scenes. Secrets from the past come to light and have repercussions in the present, there is a mystery to be solved and quite a few twists. This Lovely City is novel which conveyed the atmosphere of post-war Britain in a very compelling way.
My thanks to the publishers HQ for inviting me to be part of the tour and for sending me a copy of the book for review. This Lovely City is available now in hardback, ebook and audiobook formats and the paperback will follow in September. You will find buying options for various retailers on the publisher's website here: This Lovely City
From the back of the book
The drinks are flowing.
The music is playing.
But the party can't last.
With the Blitz over and London reeling from war, jazz musician Lawrie Matthews has answered England's call for help. Fresh off the Empire Windrush, he's taken a tiny room in south London lodgings, and has fallen in love with the girl next door.
Touring Soho's music halls by night, pacing the streets as a postman by day, Lawrie has poured his heart into his new home – and it's alive with possibility. Until, one morning, he makes a terrible discovery.
As the local community rallies, fingers of blame are pointed at those who had recently been welcomed with open arms. And, before long, the newest arrivals become the prime suspects in a tragedy which threatens to tear the city apart.
Atmospheric, poignant and compelling, Louise Hare's debut shows that new arrivals have always been the prime suspects. But, also, that there is always hope.
About the author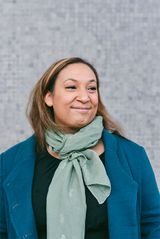 Louise Hare recently completed the MA Creative Writing at Birkbeck. Her debut novel 'This Lovely City' was shortlisted for the Lucy Cavendish Prize for Fiction 2017 and was published by HQ in March 2020. Her short story 'Panopticon' was written on the MA and has been published in 'The Good Journal.'