I spent a sunny weekend enjoying this lovely book in my garden. It's the story of Bea, a journalist, who is somewhat set in her ways. She likes her life to be ordered and plans out everything she is going to do to the minute. She gets rather unsettled if anything interferes with her routines. But Bea hasn't always been like that and over the course of the book we start to realise why. What triggers a change in Bea is a letter which arrives at her house addressed to B, not quite her name but near enough. Quite out of character, she opens the letter and discovers that it is a love letter to a previous occupant. Kind of accidentally, she replies – you'll understand how when you read the book – and this really changes her life.
It was fascinating to watch how someone so set in their routine began to move out of her comfort zone. From someone who panicked when variations in her schedule occurred, by opening up to others Bea became a lot more able to deal with change. The letters spurred her on to do things she would probably never have considered and because of this, she got so much more out of life while at the same time, enriching the lives of others.
I thought I had a good idea of where this story was going but the author had plenty of surprises for me. In the end, I'd only guessed one thing! The storyline wasn't at all predictable. The letters were rather romantic and yet the romance in the story wasn't what I expected it to be. I like when a book takes unexpected turns.
The Accidental Love Letter was a most enjoyable, escapist read. I really took Bea to my heart and many of the other characters too. The ending was just perfect and very uplifting. With its themes of caring, kindness and community, I think it's a perfect read for our time.
My thanks to the publishers Headline review for sending me a copy of the book. The Accidental Love Letter is available now in ebook, paperback and audiobook formats. If you are able to support an independent bookshop at this time please do. Otherwise, you will find buying options for various retailers on the Headline website here: The Accidental Love Letter. I feel I should also mention that if you are a ebook reader that the Kindle version is only 99p at the time of writing. You can order that here: The Accidental Love Letter
From the back of the book
Would you open a love letter that wasn't meant for you?
Bea used to feel confident, outgoing and fun, but she's not sure where that person went.
Over the last few months, she's found herself becoming reclusive and withdrawn. And despite living with her two best friends, she's never felt lonelier. To make things worse, she's become so dependent on her daily routine, she's started to slip out of everyone else's.
But when a mysterious battered envelope covered in stars lands on her doormat, Bea wonders if she could find the courage to open it.
About the author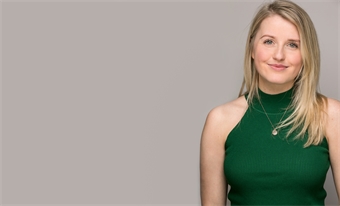 Olivia Beirne is the bestselling author of The List That Changed My Life and lives in Buckinghamshire. She has worked as a waitress, a pottery painter and a casting assistant, but being a writer is definitely her favourite job yet. You can keep in touch with Olivia through her website oliviabeirne.co.uk, or via Olivia_Beirne on Twitter, olivia.beirne on Instagram and /Olivia-Beirne on Facebook.