The Inheritance by Anne Allen is one year old. To celebrate all the seven books in The Guernsey Novel series will only be £1.99 on Kindle for a limited time. Each of the books can be read as a standalone too. As part of this blogtour, I'm re-sharing my review of the 6th book, The Betrayal. You will find details and buying links for all the books below.
Review of The Betrayal
The Betrayal is told over two time periods and I always enjoy stories where past and present connect. In the historical strand during WW2, Guernsey looks likely to become occupied by the Germans and Leo's wife Teresa and baby daughter Judith are evacuating to safety with her family in Britain. Leo stays on the island trying to keep his antique business open for as long as possible but all too soon the Germans arrive and life changes for all the islanders. When Teresa returns after the war, she discovers that someone has betrayed Leo and after being deported he has never returned. Also missing is their collection of paintings including a very valuable Renoir.
In the present day story, twins Nigel and Fiona find paintings in basement of the shop they have bought. While Fiona takes the paintings to be assessed and valued, Nigel is found dead in an apparent suicide. Fiona does not believe that her beloved twin would take his life and is determined to convince the police that he has been murdered.
Anne Allen has written about both these time periods in a way which made both stories equally appealing to me. At the heart of the book are the mysteries of what has happened to Leo, to the painting and to Nigel. As a reader, you know that Nigel hasn't committed suicide so are keen for Fiona to be able to prove her case. Help comes from a rather unlikely source and as the police begin to track down the killer, Fiona may well be in danger too. Towards the end of the book, it all got rather exciting as this part of the story drew to its conclusion! In the past, the story of Leo was equally as intriguing as we try to find out who has betrayed him and why. And then of course, there is the mystery of what binds the two stories together – the painting.
I found this a compelling read as the author brought all the elements of the story together so well. I was really interested to read about Guernsey during the time of occupation and to find out a little about how it affected the islanders. Anne Allen describes her setting so well that it sounds a very appealing place and somewhere I would love to visit some day. The beaches and coves sound beautiful and I get a real sense of the history of the island. I enjoyed the sense of optimism at the end of the novel but without everything being completely and neatly tied up. The Betrayal is a well written novel where the mystery is carefully unravelled by the very likeable and well rounded characters in the novel.
Details of all the other books
The Inheritance – Book 7 – https://amzn.to/352abv5
How close were Victor Hugo and his copyist?
1862 Young widow Eugénie faces an uncertain future in Guernsey. A further tragedy brings her to the attention of Monsieur Victor Hugo, living in exile on the island only yards away from Eugénie's home. Their meeting changes her life and she becomes his copyist, forming a strong friendship with both Hugo and his mistress, Juliette Drouet.
2012 Dr Tess Le Prevost, Guernsey-born but living in England, is shocked to inherit her Great-Aunt's house on the island. As a child, she was entranced by Doris's tales of their ancestor, Eugénie, whose house this once was, and her close relationship with Hugo. Was he the real father of her child? Returning to the island gives Tess a fresh start and a chance to unlock family secrets.
Will she discover the truth about Eugénie and Hugo? A surprise find may hold the answer as Tess embraces new challenges which test her strength – and her heart.
The Betrayal – Book Six – https://amzn.to/2yCvCqE
Book Six of The Guernsey Novels is another dual-time story set during the German Occupation and present-day Guernsey and is likely to appeal particularly to fans of the book The Guernsey Literary and Potato Peel Pie Society.
Treachery and theft lead to death – and love
1940. Teresa Bichard and her baby are sent by her beloved husband, Leo, to England as the Germans draw closer to Guernsey. Days later they invade…
1942. Leo, of Jewish descent, is betrayed to the Germans and is sent to a concentration camp, never to return.
1945. Teresa returns to find Leo did not survive and the family's valuable art collection, including a Renoir, is missing. Heartbroken, she returns to England.
2011. Nigel and his twin Fiona, buy a long-established antique shop in Guernsey and during a refit, find a hidden stash of paintings, including what appears to be a Renoir. Days later, Fiona finds Nigel dead, an apparent suicide. Refusing to accept the verdict, a distraught Fiona employs a detective to help her discover the truth…
Searching for the rightful owner of the painting brings Fiona close to someone who opens a chink in her broken heart. Can she answer some crucial questions before laying her brother's ghost to rest?
Who betrayed Leo?
Who knew about the stolen Renoir?
And are they prepared to kill – again?
Echoes of Time – Book Five – https://amzn.to/2wZgeE5
The fifth of The Guernsey Novels, Echoes of Time is a dual-time story set in the German Occupation and present-day Guernsey and is likely to appeal to fans of The Guernsey Literary and Potato Peel Pie Society.
Betrayal, injustice and revenge echo down the years…
1940. Olive marries farmer Bill Falla. The Germans occupy Guernsey.
All too soon Olive realises she has made a mistake. Her life changes when she meets Wolfgang, a German officer-however there's a price to pay. . .
2010. Natalie Ogier returns to Guernsey to escape an abusive relationship – only to be plagued by odd happenings in her beautiful cottage on the site of a derelict and secluded farm. Disturbing dreams, disembodied voices and uncanny visions from the past. She becomes increasingly ill at ease as someone else's past catches up with her own…
Her only immediate neighbour, Stuart, is the grandson of the original owners, Bill and Olive.
Thrown together in a bid to find out what happened to Olive, can they each survive the repercussions of the past and move on?
The Family Divided – Book Four – https://amzn.to/34TXLWd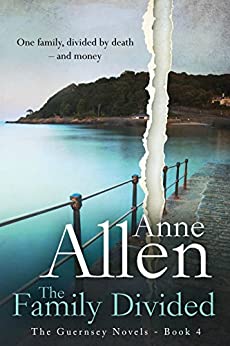 The fourth of The Guernsey Novels, covering both contemporary Guernsey and the time of the Occupation. Likely to appeal to fans of The Guernsey Literary and Potato Peel Pie Society.
One family, divided by death – and money
Andy Batiste, at loggerheads with his degenerate cousin, seeks to discover the truth of his family history. Why was his pregnant grandmother forced to flee to France? What really happened to her husband during the German Occupation, sixty years ago? Who accused Edmund, the elder son and Batiste heir, of being an informer? Was he really a traitor – and who murdered him?
With Edmund's brother Harold now head of the family, enjoying the wealth which ought to have come to Andy's father, the family is forever divided. Andy yearns to clear Edmund's name and restore his father to his rightful inheritance.
Andy is introduced to Charlotte Townsend, newly divorced, lonely and struggling with writer's block and the consuming threat of impending loss. They meet when she returns for healing at Guernsey's natural health centre, La Folie, and Charlotte becomes involved in Andy's family history.
Together they embark on a hunt for the truth…
Guernsey Retreat – Book Three – https://amzn.to/2VswgzT
The third in The Guernsey Novels series, likely to appeal to fans of the best-selling book The Guernsey Literary and Potato Peel Pie Society.
Two violent deaths. Separated by time, but with a fatal connection…
A man loses his father. A young woman loses her mother. Both in tragic circumstances that lead, when they meet, to surprising revelations from the past.
Louisa needs to find the father she has never known, to warn him of possible danger – for them both. Her search takes her from England to Guernsey. Malcolm's journey is more complicated: conceived in Guernsey, his bereaved mother emigrates with him to Canada. Many years later he arrives in India, and from here he is led back to Guernsey to open a health centre at La Folie. This was his father's home and where he was killed at the start of the Second World War.
At the heart of the two deaths lie stolen jewels. Valuable enough to kill for. Twice.
Finding her father brings Louisa more than she bargains for, and her life is transformed, while Malcolm learns that life is, after all, for sharing…
Finding Mother – Book Two – https://amzn.to/2VrLl4u
Three women. Three generations. Sacrifices for love…
Who is she really? Nicole is about to find out as she searches for her real mother; the woman who gave her away at birth. With her marriage in tatters, she sets out from England: travelling to Spain, Jersey and Guernsey before the extraordinary story of her real family is finally revealed.
Nicole becomes an unwitting catalyst for change in that family. Two women are forced to reveal long-buried secrets. One going back as far as the Second World War. Lives are transformed as choices have to be made and the past laid to rest…
Dangerous Waters – Book One – https://amzn.to/34TE4O2
Dangerous Waters is the first of The Guernsey Novels, linked but standalone stories, which will appeal to fans of The Guernsey Literary and Potato Peel Pie Society.
Tragedy seems to follow Jeanne Le Page around . . .
Can she really go through it again and survive?
She is lucky to be alive … at sixteen Jeanne was almost killed in a boating accident which brought heart-breaking family tragedy. Now, fifteen years later, Jeanne returns reluctantly to the island of Guernsey following the death of her beloved grandmother. Struggling for breath as the ferry nears the island; she is overwhelmed by a dark foreboding as hazy memories of that terrible day resurface…
Only returning to sell her inheritance – her grandmother's old cottage – Jeanne has no intention of picking up her old life. But the cottage holds a secret, dating back to World War II and the German Occupation, and Jeanne becomes drawn into discovering more. Then, soon after her arrival, a chance meeting with an old teenage crush leads her to thoughts of love.
Jeanne is forced to face her demons, reliving the tragedy as her lost memory returns.
When the truth is finally revealed, her life is endangered for the second time…
Biography
Anne was born in Rugby to a Welsh father and an English mother. As a result, she spent many summers with her Welsh grandparents in Anglesey and learned to love the sea. Now she is based in Devon to be near her daughter and two small grandchildren. Her restless spirit has meant many moves, the longest stay being in Guernsey for nearly fourteen years after falling in love with the island and the people. She contrived to leave one son behind to ensure a valid reason for frequent returns. Her younger son is based in London – ideal for city breaks ☺
By profession, Anne was a psychotherapist who long had a desire to write and Dangerous Waters, her first novel, was published in 2012. It was awarded Silver(Adult Fiction) in TheWishingShelfAwards 2012. Since then she has published six more books in The Guernsey Novels series; Finding Mother, Guernsey Retreat, The Family Divided, Echoes of Time- winner of The Diamond Book Award 2017, a finalist in Readersfavorite awards and granted a ChillWithABookAward, The Betrayal, and The Inheritance, published April 2019.
To find out more about Anne visit her website – www.anneallen.co.uk
You can also find her on Twitter – @AnneAllen21