The Sight of You has one of the most unusual concepts which I have read in a book for a while. It put me in mind of The Time Traveller's Wife in that what you are reading about seems impossible. But just what if it was actually real? How would you deal with the situations which arise?
This is the love story between Joel and Callie and so much more. Callie has been left bereft following the tragic death of her friend and is really struggling to make sense of life and how to move on. Joel has a most unusual ability. In his dreams he can see the future of those he loves, both good and bad. To protect himself, he has resolved never to get involved romantically with anyone on any kind of meaningful level. And then Joel and Callie meet.
Their developing love story is so lovely to read about as they both recognise a kindred spirit in each other and help each other to love and live again. Rather like Joel dreading going to sleep because he fears what he might dream, I was almost fearful to read this book. There were hints from the beginning and throughout the book that all might not end happily ever after. I wasn't sure I could bear to find out what would happen. However, the way the book is written was so compelling that I could not put it down. Towards the end I did read with growing dread and was almost holding my breath, but I have to say that the final section was touching and sensitively written.
The Sight of You is beautifully written and such a unusual story. It most definitely has its sad moments but is also about living life to the full and making the most of each day. I notice with interest that on GoodReads it is listed as The Sight if You #1, so I do hope that means there will be a Book #2. I would definitely be interested in seeing where Holly Miller takes the concept next.
Thanks to the publishers Hodder Books for my review copy of the book. The Sight of You is available now in hardback, ebook and audiobook formats. The paperback edition will be published early next year. If you are able to buy your copy from an independent bookshop please do. Otherwise, you will find buying options for various retailers on the Hodder website here: The Sight of You
From the back of the book
Joel is afraid of the future.
Since he was a child he's been haunted by dreams about the people he loves. Visions of what's going to happen – the good and the bad. And the only way to prevent them is to never let anyone close to him again.
Callie can't let go of the past.
Since her best friend died, Callie's been lost. She knows she needs to be more spontaneous and live a bigger life. She just doesn't know how to find a way back to the person who used to have those dreams.
Joel and Callie both need a reason to start living for today.
And though they're not looking for each other, from the moment they meet it feels like the start of something life-changing.
Until Joel has a vision of how it's going to end . . .
About the author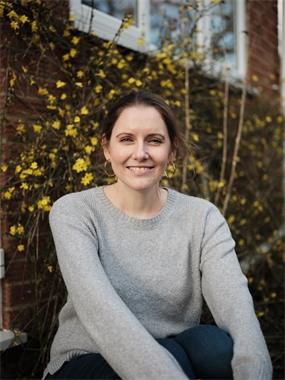 Holly Miller was born and grew up in Bedfordshire. Since university she has worked as a marketer, editor and copywriter. Holly currently lives in Norfolk with her partner and their dog.