Happy New Year everyone! Hope you all had as good a time as was possible in the current circumstances. It's one of those years where for most people it most definitely was quiet. I'm delighted to be starting off the blog this year with a review of a book I got for my Christmas and what a brilliant book it was – A Tomb With A View. I became aware of this book when the author, Peter Ross, kindly agreed to take part in our local book festival which of course last year had to be entirely online. You can still watch the event free online and I highly recommend that you do. The event was filmed, appropriately enough, in a graveyard. You'll find it here: Portobello Book Festival
I'm one of those people who is fascinated by a walk round a graveyard. All those lives lived, all those stories now forgotten, some people still remembered, most now just names on a gravestone. I've been known to look up some of the people I've come across on gravestones because I just had to know the story behind them. So when this book appeared under the Christmas tree I was delighted.
In this book we read of, as the author puts it, the 'extraordinary tales of ordinary people'. It is full of absolutely fascinating stories from various graveyards big and small around Britain, Ireland and beyond, in cities and towns, on tiny islands and even on mountain tops. Among many which really appealed is the story behind the first person killed by a tiger in England. One I was familiar with was the connection a grave in Greyfriars Kirkyard in Edinburgh has with JK Rowling and the Harry Potter character Tom Riddle. I loved the story of the couple who were born on the same day as each other, married on their birthday and who died on the day they were both 80.
Particularly fascinating was the chapter on the work of the CWGC and how they attempt to identify remains which even now are still being recovered in France etc. I have visited the massive Canadian War Memorial at Vimy. More than 11000 names of soldiers with no known graves carved on it. Moving to read that if remains of Canadian soldiers are identified and buried in a CWGC, they are removed from the Vimy Memorial. They are no longer missing.
A Tomb with A View is a beautifully written book. The word I keep coming back to is fascinating and I can't think of a better word. Highly recommended, this engaging book is most definitely a celebration of death and life and above all love.
A Tomb With A View is published by Headline and is available in hardback, ebook and as an audio download. If you are able to support a local bookshop, please do order your copy from there. Otherwise, you will find buying options for various retailers on the Headline website here: A Tomb With A View
From the back of the book
Enter a grave new world of fascination and delight as award-winning writer Peter Ross uncovers the stories and glories of graveyards. Who are London's outcast dead and why is David Bowie their guardian angel? What is the remarkable truth about Phoebe Hessel, who disguised herself as a man to fight alongside her sweetheart, and went on to live in the reigns of five monarchs? Why is a Bristol cemetery the perfect wedding venue for goths?
All of these sorrowful mysteries – and many more – are answered in A Tomb With A View, a book for anyone who has ever wandered through a field of crooked headstones and wondered about the lives and deaths of those who lie beneath.
So push open the rusting gate, push back the ivy, and take a look inside…
About the author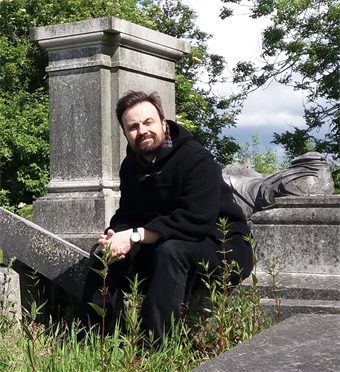 Peter Ross is an award-winning journalist. A nine-times winner at the Scottish Press Awards and shortlisted for the Orwell journalism prize, he is a regular contributor to the Guardian and The Times. He is the author of the non-fiction collections Daunderlust and The Passion Of Harry Bingo, the latter shortlisted as non-fiction book of the year at the Saltire Society literary awards. He lives in Glasgow with a view of the tombs.