It's no secret that I'm a big fan of Pride and Prejudice. I have read many retellings and imagined prequels and sequels featuring either the major characters or some of the minor players. I have to admit though that I drew the line at Pride and Prejudice and Zombies! The Other Bennet Sister tells the story of Mary Bennet, the middle sister, the quiet, studious, often overlooked sister. I have to confess that when I think back to the book or indeed to the film versions of it, even I don't have many recollections of Mary. This is something the author has sought to address in her book and, I feel, has done so admirably.
This is a hefty tome coming in at just under 700 pages and it's a story I just completely lost myself in. In the first part, we read the familiar story from Pride and Prejudice but of course from Mary's point of view. Following her sisters' marriages she feels lonely and unappreciated at home but enforced change to her humdrum life comes when her father dies and Mr Collins takes ownership of Longbourn (not a spoiler, it's in the blurb). From then, we follow Mary as she tries to find her place in the world, a journey that takes her variously to her sisters' homes, back to Longbourn, to London to stay with her Gardiner relatives and also features a memorable visit to the Lake District.
Reading The Other Bennet Sister is like catching up with old friends, when despite the time between visits you soon settle into companionable conversation. Although the focus is firmly on Mary, it was lovely to see the other characters moving on in life too with visits to both Pemberley and Netherfield. Mrs Bennet, almost comedic in Pride and Prejudice, is quite insufferable here. I was so angry with her and her callous attitude to Mary who despite everything, just wanted the approval and to be noticed by her mother. She was so deserving of that notice. I saw somewhere that the author said "All of us want to be Lizzie, but I suspect most of us know what it feels like to be Mary.". I think this is true and we see certainly in the opening part of the book how Mary feels so unvalued and indeed convinces herself she is not worthy of attention. Some of the quiet encouragement that begins to make her value her own accomplishments and strengths comes from some unexpected sources. I could have hugged her aunt Gardiner when, shopping for cloth for new dresses, she tells Mary that "good things don't need to be showy or gaudy you know. Sometimes the very best stuff can seem quite plain, until one examines it closely. It is only then that one sees its true quality." She may have been talking about fabric but Mary knew exactly what she was saying. I even rather changed my mind about Mr Collins as he reveals something which explains his rather strange ways in the original story.
This being an Austen style book, there is of course the thorny issue of finding a suitable life-path for Mary. Options for women in her position were so limited: become a governess, marry or rely on the kindness of relatives and live as a spinster. Although Mary was quite convinced she was not worthy of attention, there were a few possible suitors for her and part of her deciding which, if any, she would be happy with was finding out who she really was and being happy within herself. I so enjoyed seeing Mary blossom and become assured as a woman worthy of anyone's attention but equally happy to be in her own company.
I thought The Other Bennet Sister was an excellent book, one of the best Pride and Prejudice inspired books I've read, and I commend it to any Austen aficionado.
I read and reviewed my own copy of the book. The Other Bennet Sister is published by Mantle Books and available now in all formats. Please support a local bookshop if you are able to when buying a copy. Otherwise you will find buying option on the Mantle website here: The Other Bennet Sister. I must mention that at the time of writing, the Kindle version is on offer for just 99p, but please check before buying as prices can change.
From the back of the book
In Jane Austen's Pride and Prejudice, Mary is the middle of the five Bennet girls and the plainest of them all, so what hope does she have? Prim and pious, with no redeeming features, she is unloved and seemingly unlovable.
The Other Bennet Sister, though, shows another side to Mary. An introvert in a family of extroverts; a constant disappointment to her mother who values beauty above all else; fearful of her father's sharp tongue; with little in common with her siblings – is it any wonder she turns to books for both company and guidance? And, if she finds her life lonely or lacking, that she determines to try harder at the one thing she can be: right.
One by one, her sisters marry – Jane and Lizzy for love; Lydia for some semblance of respectability – but Mary, it seems, is destined to remain single and live out her life at Longbourn, at least until her father dies and the house is bequeathed to the reviled Mr Collins.
But when that fateful day finally comes, she slowly discovers that perhaps there is hope for her, after all.
Simultaneously a wonderfully warm homage to Jane Austen and a delightful new story in its own right, Janice Hadlow's The Other Bennet Sister is, at its heart, a life-affirming tale of a young woman finding her place in the world. Witty and uplifting, it will make you feel – and cheer – for Mary as you never have before.
About the Author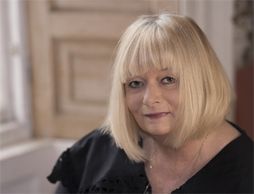 Janice Hadlow was born in London and studied history at university. After a few years working for the House of Commons, she joined the BBC and became a television producer. There, and later at Channel Four, she played an important role in popularising history on tv, making a number of highly regarded series, including Simon Schama's History of Britain.
She went on to run two of the BBC's major television channels, first as Controller of BBC 4 and then BBC 2, and she commissioned hits across a wide range of genres, from Great British Bake Off to the dramas Wolf Hall and Line of Duty. She was the recipient of a number of awards, and is a Fellow of the Royal Television Society, as well as of King's College, University of London.
The Other Bennet Sister is her first novel although she has previously written one non fiction book, The Strangest Family, which told the story of the troubled relationship between George III and his wife and children.
She currently lives in Edinburgh with her husband and has two sons.