I'm starting this year's festive recommendations with a book I actually read last year. By the time I had read it, it was almost New Year. I think that this is one you are definitely going to want to read to get you in the mood for Christmas so thought I'd save my review for now.
Nia always loved visiting Nutcracker Lane at Christmas time, a shopping area which is a bit like a pop-up Christmas market. She is a massive fan of Christmas herself and this year has been given the chance to run a craft shop selling her hand-made wooden tree decorations. Nutcracker Lane has become run down over the years and isn't the magical place Nia recalls. With a new owner (nicknamed Scrooge) threatening to close the shops unless the owners make a good profit, the old community spirit between them is gone as everyone tries desperately to survive. To add to this, Nia's latest relationship has recently broken down when she discovers her boyfriend has been cheating on her. She makes a wish to find her Prince Charming by cracking a nut in the life sized nutcracker. The very next day, a new shop opens opposite hers run by James, who looks remarkably like a Disney Prince. Could her wish have come true? Just a pity that James has no Christmas spirit and is more like the Grinch!
I loved this book! Everything you can think of to put you in the Christmas spirit is in here from festive films, to delicious Christmas baking, carol singers, decorations, Christmas jumpers, gingerbread houses, hot chocolate, Christmas songs and of course, nutcrackers. There was one particular part of the story about nutcrackers which reminded me of our local mysterious robot maker. For some time now, a mystery person has been leaving handmade wooden robots around the Portobello area which as you can imagine brings great joy to anyone who finds one. I was lucky enough to find one on Christmas Eve last year and was delighted!
I really enjoyed reading about the growing friendship and attraction between Nia and James. It was so funny how completely opposite they were in regards to Christmas and Nia's attempts to get James to see the magic were quite often very funny. There was also the mystery of just who James was, appearing so suddenly just after Nia made her Christmas wish. He couldn't really be the nutcracker come to life could he? James was such a intriguing character, particularly as Nia began to learn more about him and his family and why Christmas wasn't quite the same for him. I was willing her to work some Christmas magic on him and so hoping that they would find a happy-ever-after but also had some suspicions about him…
The dedication at the beginning of the book says it is for 'anyone who still believes in the magic of Christmas'. Well, if you didn't before you started reading, you just might by the time you've finished! I think you'll be hard pushed to find a more Christmassy book and if this gorgeous romance doesn't fill you with the Christmas spirit then Bah, Humbug – I think you might be Scrooge himself!
My thanks to the publishers HQ Stories for my review copy from Netgalley. You'll find buying options for various retailers on the HQ Stories website here: The Little Christmas Shop on Nutcracker Lane
From the back of the book
It's the most magical time of year, and anything can happen…
Nia Maddison has always believed that wishes come true on Nutcracker Lane. So, when she gets the opportunity to run her own Christmas gift shop on the most magical street in town, it feels like her wishes have been finally granted.
But working late one night, Nia discovers yet another boyfriend has cheated on her. As she trudges home – alone, again – she passes the (supposedly) magical nutcracker and half-joking thinks a wish can't hurt. Cracking a nut in its mouth, she wishes to find Prince Charming.
The next day Nia gets to work to find another decoration shop has opened directly across the lane from her own, and she can't resist having a nose around.
Whilst there, she accidentally backs into a human-sized Nutcracker, knocking it over and breaking it. Mortified, she flees from the store but when she gathers her resolve to go back and apologise, she stumbles across the gorgeous shop owner James, who looks exactly like Prince Charming…
Could her Christmas wish from the night before really be coming true?
About the author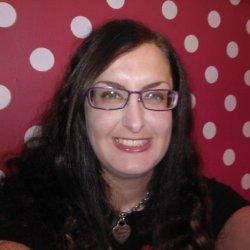 Jaimie is a 32-year-old English-sounding Welsh girl with an awkward-to-spell name. She lives in South Wales and enjoys writing, gardening, watching horror movies, and drinking tea, although she's seriously considering marrying her coffee machine. She loves autumn and winter, and singing songs from musicals despite the fact she's got the voice of a dying hyena. She hates spiders, hot weather, and cheese & onion crisps. She spends far too much time on Twitter and owns too many pairs of boots.

She will never have time to read all the books she wants to read.
She is the author of chick-lit romantic comedies The Chateau of Happily Ever Afters and Kismetology, and she has also written young-adult romantic comedies Afterlife Academy, Not Pretty Enough, and North Pole Reform School.